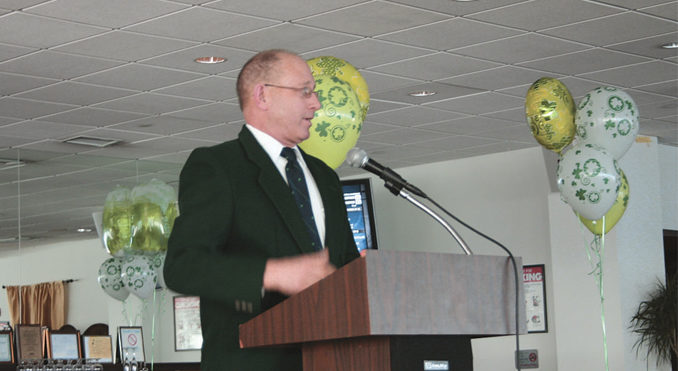 …by Sue Giustino…
If you ask Gordon Ryan how he ended up in Montauk he'll tell you "It's because of a car thief," and then he'll add, "And I'm married because of a bouncer." Now that's a great lead- and just a glimpse into his vast repertoire of stories detailing the many adventures which weave through the story of his life. I'm sure that being chosen as the 57th Grand Marshal for this year's Montauk Friends of Erin St Patrick's Day Parade will result in a few more tales to tell. However, after our conversation, I realized that he may be just a little nervous about the Grand Marshal Luncheon where during the roast, a few other stories from the past may emerge.
Gordon grew up in Babylon and eventually his family moved to Westport Connecticut. As a youth he competed in horse jumping competitions, but quickly dropped that when he discovered surfing and skiing. Now he's an avid Sunfish surfer on the bay in Amagansett near his house.
After graduating Loyola, New Orleans, and passing the Bar in Vermont, he started practicing law. A year later, he passed the NY Bar and came to Montauk to surf in the summer while working here as well. At one point his Montauk friends warned him "Be careful, you'll get stuck here for winter." Which he dismissed since he loved his winter life in Vermont. However, early one November the warning proved true. He was in Boston when his car was stolen, he took a train back to Montauk. Having no money to replace the car or to move back to Vermont, he stayed, expanded his law practice, and never left. Hence the 'car thief' story.
Now for the 'bouncer' half of that opening comment. One night he was walking into a local bar where Billy Christman was at the door. Ahead of him was a beautiful girl whom Billy immediately followed and started putting the moves on. To escape this rather large bouncer's advances, the girl turned to Gordon chatting him up. He and the lovely lady Dianne eventually got married and had three daughters.
When speaking with Gordon, it's obvious that his wife and girls are the center of his life. He and Dianne share a fun filled life, but like most not without heartache as well. He lights up when he talks about their three daughters, Robin, Loralee and Tess. Robin raises cheetahs in Dallas, while Loralee is a biologist who is now a financial compliance officer for a hedge fund in NYC; he couldn't be prouder of the two of them. Their youngest
Tess, unfortunately was diagnosed with a brain tumor at the age of five, and passed at the age of seven. Although it was obviously hard to talk about such a difficult time, he shared wonderful memories of her and of the town he loves who lovingly came to the aid of his family throughout their ordeal.
He describes Tess as personable and full of life, and said her nickname at school was the 'Tessinator', which he exemplified through the story of her ride in the squad car. One day Tess asked if she could have a ride in a police car, so Gordon asked his friend Officer Richie who, of course, agreed. Not being shy, she took his hand and hopped in. Loving the adventure especially when Richie pulled over some of his friends in town- quietly explaining it was for Tess, and when they had to respond to a fire call. She was having so much fun that she didn't want to get out, so Richie and Gordon agreed to meet up later at the restaurant where the family was going to have dinner. Picture his family at a table with other diners around, and in walks officer Richie in full uniform with little Tess. If that's not enough, after Richie leaves, Loralee holds up her hands which are locked in hand cuffs! Admitting she picked the officers pocket, Gordon tells her that they need to leave because they didn't want to miss the opening scene of South Pacific at the high school. So now they walk out through the restaurant with Loralee in handcuffs- imagine what the other customers were thinking. Fortunately, before the play, Richie realized his cuffs were gone and doubled back to release her.
"The town saved us." He repeated over and over, detailing the numerous acts of kindness shown them while they ran back and forth to the city for treatment for Tess. Two years of nightly dinners, garbage drop off and mail pick-up, as well as their room at the Ronald McDonald House being wired so she could participate with her class while having treatments- all organized by Cheryl Bloecker and the Amagansett School. In addition, friends picked up the other girls in a minutes notice, and there was the time his abandoned car for the Jitney, on Main St. in Amagansett, wasn't towed or ticketed after eight unexpected days at the hospital. Of course, he also fondly remembered when both the Amagansett and Montauk Fire Departments gave fire truck rides to Tess and her friends; to their overwhelming delight. An unimaginably difficult time lightened with some beautiful memories.
In 1979 he bought his house on Lazy Point, met Dianne in '80 and they were married in '83. He also opened his Montauk law office in '83 handling real estate, criminal, and eviction cases, nothing messy like divorces, "I like my clients in handcuffs in the back of a squad car," he claimed. It seems there are a number of 'sayings' Gordon has penned in creative moments. Including, "I may be slow, but I'm expensive." And of course the infamous "I Know Eddie Ecker" which rumor has it, had a co-writer. But the most recent Gordon mantra- also known as Eddie's Revenge, "Gordon Ryan, Esq. He'll Get You Off."
In the early '80s his company, Promised Land Salvage, whose motto was- call us if you need a couple of jerks, which originally was for maritime towing, became the avenue for a new venture with his buddy Tom Melore; sneaking into the Montauk St. Patrick's Day Parade to save the entrance fee. Of course, it wasn't until after the 2nd year that they learned that there isn't an entry fee to be in the parade! Year one was "Geek Surf Club", a VW Dune Buggy with surfboards hanging out and two crazy surfers hangin' loose. They made it as far as the Shagwong when the crowd tried to pick up the buggy and bring them into the Shagwong. The next year, to be safe, they used a pick-up. Still, the crowd could reach in and steal their beer. Finally in year three, after being told they were messing up the order of the parade, they signed up and graduated to a flatbed. The rest is history- each year spectators look forward to the creative, timely, often politically motivated Promised Land Salvage float making its way down the parade route.
When Gordon wasn't working at building floats or one of his many jobs, which included being: a firewood seller entrepreneur in high school, school bus driver during college, a substitute teacher in Connecticut, working for job development for high school students for the NYC BOE, working for a tree company, delivering appliances, a moving man, security guard, tree surgeon, driving a town snowplow and a fish delivery truck, teaching a real estate brokers course as Southampton College, an instructor for continuing legal education for lawyers, instructing officers on trial techniques for the E H Town Police, and last but certainly not least, he's the legal advisor for the show 'The Affair'; each with an array of stories attached, he's been involved in many civic and community minded activities. These are his 'Claims to Fame'.
The first one there's even a book about. Gordon G. Ryan, Esq. is the Montauk Light-Middle Weight Boxing Champion. Held at the Dock, George Watson organized the event, and according to town folk law, all because of an argument that needed to be settled. Prior to the match, he was a wrestler in high school as well as being involved in boxing and martial arts, so Gordon got involved; even having to go up a weight class to get in. With Billy Christman as his corner-man, the first match against an army boxer was a draw. The 2nd one of the day for Gordon was against a Coast Guard guy that he admits scared him. But with Billy in his corner, Gordon followed Billy's cry to 'give him a right' and he broke the guy's nose. However, on the second call to 'give him a right', the other guy listened and broke Gordon's nose. Eventually, Gordon won the match earning the championship title.
Next is the East Hampton Youth Court, which he started with a judge and a detective, and for eleven years they volunteered to train the kids and mentor the program. It was open to anyone in high school, and after a few months of training the kids at the E H Police Station or Courthouse, they would pick a student lawyer for the defendant, prosecutor, judge, bailiff and jury. The youth court would hear real cases at the Courthouse and decide on a punishment. It could be a school bus problem, shoplifting, drugs, weapons, thefts, and other offenses, while the punishments included mandatory tour of the Suffolk County Correctional Facility, restitution, a curfew, essays, or community service. It was an extremely successful program, but Gordon said that a real success was when a defendant joined the Youth Court.
Another includes his participation on the Mr. Amagansett Don Sharkey Memorial Community Fund benefit at the Stephen Talkhouse. Gordon participated a number of times, performing original versions of popular songs with references to town affairs as well as to Don. They include 'This town is your town, this town is my town…', 'Don't fence me in…', and a familiar rendition of 'I've inspected everywhere man…' For the winning number in 2015, as Preacher Gordy George from the Parish of the Promised Land, he was lecturing the audience congregation at Stephen Talkhouse for violating the codes of the town of East Hampton.
Finally, for over 20 years, every Wednesday night for six months, he and Dianne are Race Club Officers for the Breakwater Yacht Club. They provide assistance in two motor boats for the 30-40 ft. sail boats participating in the race. Their tasks include setting the course, helping boaters in distress and rescuing overboard participants, as well as towing them in when needed.
With all his activities and accolades throughout the years, and although he admits that he did think if he kept making the floats he'd be safe from being chosen, Gordon says, "Being chosen as 57th Montauk Grand Marshal, is the Best Honor I've ever had."
Congratulations Gordon – the Friends of Erin are thrilled you accepted their invitation, you deserve it, and they hope you'll enjoy the festivities.
Come to the Shagwong 9pm Wednesday January 9th to congratulate Gordon with the Friends of Erin for being the 57th Grand Marshal!