Marineland Dolphin Adventure celebrating 80 Years, with "Bernie the Dolphin"!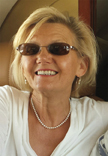 2018, for us, has been an exceptional travel year. We've spent  quite some time discovering parts of Kentucky: The Shaker Village of Pleasant Hill, Noah's Ark, The Kentucky Castle of Versaille, Red River Gorge and Cliffview Resort; Virginia: Wintergreen Resort; in North Carolina: Pinehurst, in Florida: St. Augustine, Palm Coast and Flagler Beaches but we've   also traveled oversees: Paris, France, Bulgaria and Northern Germany.
This month, we like to take you to Marineland Dolphin Adventure, a fascinating place on the ocean between St. Augustine and Palm Coast, Florida that opened in 1938 as Marine Studies. Gary Inks, V. P. and G.M of the Marineland Dolphin Adventure welcomed us personally to his oceanfront playground, a not for profit organization, and gave us a first-hand introduction of the world renowned facilities.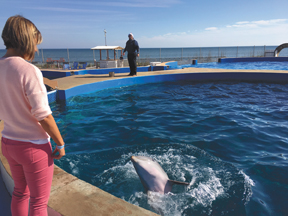 We learned that an impressive 30,000 guests had visited on opening day in 1938 and the park quickly became known as the world's first oceanarium. Since the founders Douglas Burden, C.V. Whitney, and Ilia Tolstoy (the grandson of author Leo Tolstoy) were all involved in the motion-picture industry it's no surprise that it became a premier facility for feature films, newsreels and underwater footage as well. The UniversalPictures release "Creature from the Black Lagoon" was filmed at Marineland and hit theaters in 1954; a year later,  "Revenge of the Creature" (1955) was released marking the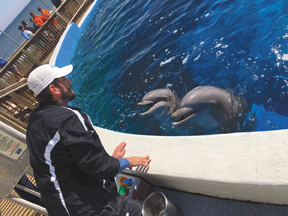 film debut of Clint Eastwood.  "Secrets of the Reef" followed in 1956 and premiered in New York City.  Parts of the famous Tarzan movies and the TV series 'Benji' were also filmed here. December 2018 saw the release of "Bernie the Dolphin" with "Aqe", the local dolphin star. More on this film later.
Marineland's bottlenose dolphin Nellie and I were born in the same year – 1953.  Nellie lived for over 60 years!  The famous dolphin & history's most remarkable mammal has starred in several television shows and other big screen productions. This amazing ambassador for marine mammals became the mascot for Jacksonville University and even received an honorary Doctorate on her 60th birthday.
Since its inception, Marineland Dolphin Adventure continues to be a center of education and family fun that showcases marine life through one-of-a-kind interactive experiences. Guests from all over the world visit Marineland annually to touch and play and swim with dolphins, to learn about marine ecology, to witness sharks being fed and to make memories for a lifetime. As did we. We had promised our 5-year-old grandson, who is just crazy about sharks, and visited us for Christmas with his Mommy and Daddy, to take him to see the sharks and touch and play with dolphins.
It was really exciting to watch the feeding of the Sand Tiger Sharks.  Mr. Dan explained that they are the only shark species that swims to the surface and swallows air in order to regulate their buoyancy enabling them to remain motionless at any depth while seeking prey. Sand Tiger Sharks have the lowest reproductive rate among sharks, giving birth every two years to one or two pups after a gestation period of 9 to 12 months. This shark is ovoviviparous. The embryos initially are nourished by the yolk in their egg and later consume slower-developing embryos while still in their mother's uterus. Sand Tiger Sharks are a prohibited species for recreational and commercial fishermen in NOAA's Highly Migratory Species Compliance Guide.
Later we all got to attend the "Behind the Scenes" tour with a window into the dolphin tank allowing us also to indirectly play with the dolphins as well. They definitely took notice we were there. Last but definitely not least we got to touch and play ball with the dolphins and watch them interact and play with us and the trainer. The personal attention we received from every single one of the staff members was wonderful, especially when one considers that it was Christmas Eve morning. www.marineland.net
Marineland Dolphin Adventure's 80th marked its return to the Hollywood spotlight this year as a filming location for Bernie the Dolphin. Set in St. Augustine, Florida, 'Bernie the Dolphin' is a family adventure about a brother and sister who befriend a badly sunburned dolphin separated from his family and uncover a secret plan that could destroy the beach and their new friend's home. The kids must devise a clever plan to stop the bad guys, protect the sea life, and, most importantly, save their best friend, Bernie. The feel-good family movie featured Marineland Dolphin Adventure, and the park's dolphins starred as the film's namesake. Bernie the Dolphin was released December 2018 throughout the United States and internationally. www.berniethedolphinfilm.com
Until next month from another interesting location!
Love, Ingrid
Ingrid Lemme-Chalut 
Award-winning TV Host, Publisher, Travel Writer, Producer, Author
 and Ambassador for www.Seven-Stars.com