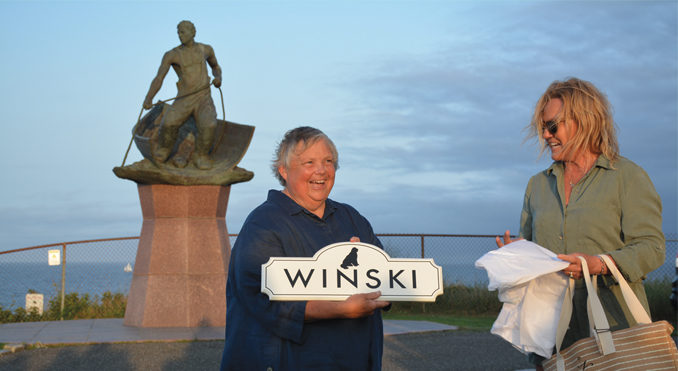 …by Patria Baradi Pacis…
After 31 years as the steward of the Montauk Point Lighthouse, Marge Winski has left us and moved on to Maine.
The Montauk Lighthouse, built in 1796, was commissioned by President George Washington as one of the first public works projects in the United States. It is the fourth-oldest lighthouse in continuous operation in the country and is a National Historic Landmark and popular tourist destination.
On April 1, 1987, the U.S. Coast Guard moved out of the Montauk Lighthouse, having automated the light and foghorn and turned it over to the Montauk Historical Society.
Ms. Winski moved in as a resident in exchange for her presence at night. She would also handle the money from ticket and gift shop sales.
Of course, Montauk couldn't let her move on without some sort of farewell celebration. Tuesday, August 22, 2018 was a beautiful send off for a beautiful person, my friend, Marge Winski. Marge is loved by the whole Montauk community especially those who were fortunate to have worked with her at the Post Office and those who worked at the light and watched her drive up the hill to park her blue van, several feet from her apartment, with her best friend, always a Newfoundland puppy, riding shot gun.
More than 150 friends and relatives took time off from their busy schedules to wish Marge and her new puppy Kate farewell and good wishes as they leave for Maine, another place that is close to her heart. I first met Marge and her then best friend Thunderpaws (RIP), while working at the lighthouse and found that we had a lot in common. We both loved our dogs, my German shepherd Benji (RIP), photography and writing.
When my husband and I arrived at the lighthouse around 6:15pm, the weather was perfect with a slight, ocean breeze, not too cold nor too hot. We were welcomed by a sea of friends that we had not seen in a long time and lots and lots of food to feed an entire army thanks to the local eateries in town and local chef friends who provided submarine A woman was in awe of how well the evening was progressing and asked: "Who did all the preparation for the party?" "That's the Montauk family for you, always giving their time and experties. We take care of each other in good times and in bad times." I answered.
As the sun was setting in the horizon, the Lighthouse Committee Treasurer Dick White said a few words thanking Marge for her 31 years of service as the keeper of the light. Historian and author Henry Osmer presented her with a lighthouse guest book with the inscription in fancy calligraphy style: "To Marge Winski, Lighthouse Keeper 1987 – 2018 on the inside page and "God Speed August 21, 2018" on the first page for all guest to sign and write something for Marge.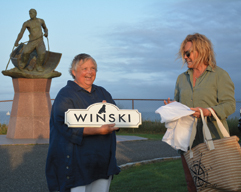 Manager of the Conway Gift shop Bernadette Kaestner presented her with souvenirs of the light including a wooden white sign which read "Winski" and the profile of her dog painted exquisitely in black. Margethen handed over the keys to her apartment to long time lighthouse committee member and the new steward of the light, Joe Gaviola.
Marge was speechless and teary eyed. She didn't realized how much she is loved by everyone. She thanked all and promised to come back in the near future. She added: " I hope I will get to know everyone's car in Maine as I do in Montauk. I will miss you all."
At 7:30pm a huge vanilla and strawberry cake sheet from the local bakery was brought out and inhaled. All sang "For She's A Jolly Good Fellow and raised a toast to Marge. "Montauk will miss you Marge. Good Luck in your new life!"