Hello, welcome, and Happy New Year from this month's edition of Montauk Fire Department Corner. This month's first order of business is for me to introduce myself. My name is Scott Snow, and I am the newly elected Chief of the Montauk Fire Department. I look forward to keeping the citizens of Montauk and our visitors up to date with events within the Montauk Fire Department and I would like to thank the Montauk Sun for giving us this monthly opportunity to do so.
Before I tell you a little bit about myself and introduce the rest of the 2022 slate of Officers, I'd like to personally thank outgoing Fire Chief Mitchell Valcich. His commitment to the Montauk Fire Department and to the entire community of Montauk is unsurpassed. I know I have become a better Chief having worked under him, and I look forward to his guidance in the future. Enjoy some "down time", Mickey, you have earned it.
I have been a member of the Montauk Fire Department for over twenty-one years, having joined in December 2000. I had been asked over the years to join, leading up to the year 2000, but it always seemed that I was too busy. One day my baby son needed EMS. I called, and Mickey Valcich, Jim Grimes, Ken Glogg, and John Drobecker responded. After seeing these men who were friends of mine respond, I realized how important the Fire Department was to our community and I knew I had to join and give back to the community. As a young firefighter I was assigned to Company No. 2, our engine/heavy rescue company. I have been in Company No. 2 ever since and have served as its Lieutenant and Captain. I have taken over 30 classes during my time in the department with 13 of those classes in incident command, part of the mandatory training to hold the position of Chief. Additionally, some of the other classes I have certifications in include: Fire Fighter 1, pump/engine operations, EVOC, Heavy Rescue 1&2, PADI, Marine Fires, Ice rescue, brush fire operations, and trench rescue. I am a member of the MFD JOLT (Jaws of Life Team) 2, ambulance chauffer, and have assisted the Montauk Fire Department Juniors for 5 years. I am proud to be the Chief of the Montauk Fire Department and I look forward to working with the wonderful men and women of our organization.
On January 1, 2022, we held our Annual Swearing In of New Officers at the Montauk Fire Department. Below is our 2022 slate of Officers. I congratulate them one and all and look forward to working with them through this upcoming year. Also, sworn in on January 1st was newly elected Fire Commissioner Charles "Chip" McLean. Congratulations to Chip and I speak for all the department in wishing him well in his new endeavor.
Chief Engineer: Scott Snow
1st Asst. Chief: Kenneth Glogg
2nd Asst. Chief: Peter Joyce, Jr.
Company 1: Captain John McDonald, Lieutenant Mike Groen
Company 2: Captain Kyle Fagerland, Lieutenant Heather Matthews
Company 3: Captain Robert Gosman, Lieutenant Dave Ryan
Company 4: Captain Ellen Cooke, Lieutenant Sue Farnham, Lieutenant Rob Rosen
Company 5: Captain Tim O'Rourke, Lieutenant Mike Mirras
Company 6: Captain Ed Ecker, Jr., Lieutenant Harold "Herb" Herbert
On Sunday, December 5, 2021, we conducted our annual Holiday Dinner for Montauk Seniors. Under the guidance of Chef Joan Franzone and her team, we delivered or had available for pickup over 500 dinners for the senior citizens of Montauk. Thanks to everyone who participated in making this event a success.
I want to thank the community of Montauk for all the wonderful toys you donated during the holiday season.
The citizens of Montauk have the deserved reputation of never forgetting the needy, and it really shows during the holiday season. Thank you.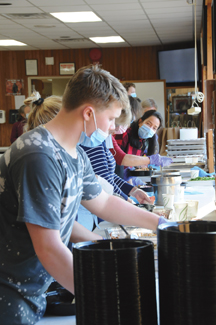 Thank you to Clare Rose distributors and to Anheuser-Busch. Through a program with the Montauk IGA, they donated the sum of $5,000.00 to the Montauk Fire Department. Your generosity will enable us to help others. Thanks again.
I am proud to announce that the Montauk Fire Department and Company 6 contributed to the festival of lights at the East Hampton High School. We heard it was a big success and we are happy to have been a part of it. GO BONAC.
That's it for this month's edition. Please stay safe on the roads during winter conditions.
See you next month.
~ Scott Snow, Chief, Montauk Fire Department
https://www.montaukfiredistrict.org/