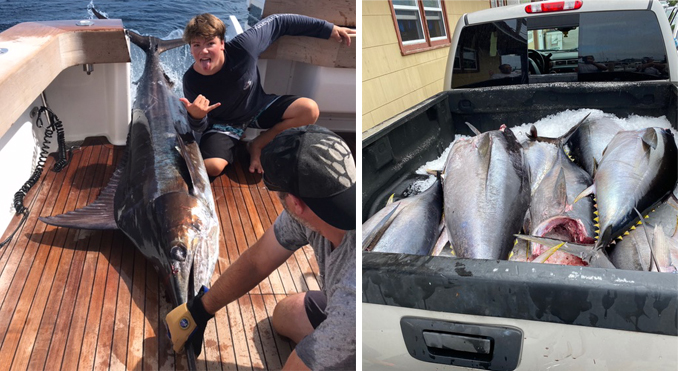 The 2021 season will be one to remember, despite all of the easterly wind and choppy days. Most easterly wind for a summer that I can remember.
It was good to see that the Fluke fishing showed improvement from the past few years. We basically kick off the season with the opening of Fluke. The number of juvenile Fluke scattered all over the rips, down the beach, and all along the edges of the rock piles, was a promising sign. Frisby, Outer Frisby, Rocky Hill, Inner Cartwright, and Outer Cartwright were where the larger fish seemed to hang out along the edges of the rock piles. I can't stress enough that positioning the boat for a drift that will give you the best odds at getting bites is most important. Number one rule: wind against tide is the enemy!!!!
Hardcore Fluke fishermen had to deal with the now pesky Black Sea Bass which have made the best comeback of any fish species in a long time. I noticed back about 15-18 years ago a huge number of Black Sea Bass juveniles were showing up at the Flats, North Grounds, Mason's Mount, even Great Eastern. It was like all of a sudden, poof, we were inundated with these little voracious critters! Well, now they have grown up to be legal sized and have spread out everywhere. Hard to believe people complain that the Black Sea Bass keep eating their nice Fluke baits and offshore as well, the Sea Bass are eating baits meant for catching Cod. It's a great problem to have these days, especially with the Striped Bass Slot regulation in place.
Anglers can catch their limit of one Striped Bass that has to be above 28″ and not greater than 35″ then, rather than catching and releasing the Striped Bass risking possible injury to them, anglers can go catch these delicious Black Sea Bass which we fondly call "Black Gold"!!
Also if it's Fish tacos you like, then by all means don't count the Porgy (Scup) out. Those small delicate fillets you get out of the Porgy after cutting all the bones out, are perfect size for those Tacos and quite delicious!!
I suppose the greatest improvement was the return of the Tuna, being at a respectful distance! The Canyons were alive and some really nice Bigeye Tuna were brought over the rails. Swordfish, White & Blue Marlin, Wahoo, Dolphin (Mahi-Mahi), Yellowfin Tuna, and especially the Longfin Albacore, which were so prolific back in the 80's, we called them "Bluefish of the Canyon"!! 2021 was the definite return of the Longfin Tuna, sure is good to have those Mason jars filled again with that yummy tuna!!
There were a lot of Dolphin (Mahi-Mahi) around this 21′ season. Great fun to catch on spinning tackle when they're schooled up. They run, jump, change direction in a split second, and they really do good in the skillet that evening!!
The Yellowfin showed up in the shipping lanes some 40-45 miles offshore, which was a pleasant surprise. Decent sized too, 40-100 pound fish. Not having to run out 60-70 miles to catch fish that size was a blessing that's been a long time coming!!
Most 2022 Regulations are not in place yet, but one that might stick is a moratorium for Mako Sharks covering 2 years. Meaning, no one can possess any Mako Shark for the next 2 years. This will be a Federal Regulation. We'll keep everyone posted on all regulations as soon as we know.
Remembering Capt. Ray Ruddock "Abracadabra" who recently passed. He kept us laughing with his quick wit & dry sense of humor right to the end! God's speed Ray, say hello to Capt. Phil for us!
~ Tight Lines, Captain Skip
www.adiosboat.com
www.facebook.com/adios.charters