Hello, and welcome to this month's edition of Montauk Fire Department Corner. I hope everyone had a nice Mother's Day celebration and Memorial Day weekend. I am sure you have noticed, as I have, that the summer season is fast approaching. The weather has been great, and Montauk is getting busier. During this busy driving season, please keep your eyes and ears open for emergency vehicles. If you see and/or hear lights and sirens of emergency vehicles, on either side of the road, please slow down and pull safely onto the shoulder until the vehicle passes. Little courtesies like this can keep us all safe.
I would like to thank the Officers, men and women, of the Montauk Fire Department who participated in the Firemen's Memorial on May 2nd. This year the Memorial was hosted by the Amagansett Fire Department. Over 75 fire and EMS personnel from Amagansett, East Hampton, Montauk, Sag Harbor, and Springs participated.
Congratulations, and welcome aboard to Thea Grenci who was unanimously voted into the Montauk Fire Department at our March 2021 meeting. Thea is the third generation of Grencis who have served the community of Montauk in the Fire Department. Her grandfather, Tom Grenci, Sr. was Chief of the Montauk Fire Department for 2 years, from 1982 and 1983, and her father Tom Grenci, Jr. was Chief also for two years, from 1996 and 1997. Here is a picture of Thea and Tom in full turn-out gear, getting ready for Thea's first drill.
Speaking of drills, I would like to thank all of our members who participated in the propane suppression drill at the Larry Franzone Firematics Center in Wainscott on April 26th. As you can see by the photographs the drill was very realistic and intense. Besides manpower, we sent four pieces of apparatus to this drill, a pumper, aerial ladder truck, tanker, and an ambulance.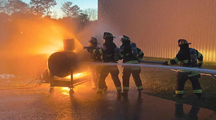 I would like to give a special thank you to our training officer, Steve Sizse, and the other personnel who assisted him: Jeanine Miedzwiecki, Vinnie Franzone, Peter Joyce, Jr., Dave Marmeno, Chip McLean, Brian O'Connor and Eddie Schnell. Please enjoy these photos taken by training officer Sizse.
I would like to thank our Ambulance Company No. 4 men and women who assisted at the Stony Brook Southampton Hospital COVID-19 Vaccination Clinic at our neighboring Montauk Playhouse on Thursday, May 13th. Our volunteers assisted with the vaccination effort, and stood by with an ambulance in case it was needed (which, thank God, it was not). Please see the group photo above by Honorary Chief Richard Lewin, who also volunteered at the Clinic that day.
Last, but not least, thank you to the Montauk Sun, which has consistently supported the Montauk Fire Department and every other Montauk cause. Their contribution to Montauk is enormous and is much appreciated. It gives an organization like ours an opportunity to let people know what the Montauk Fire Department is up to.
That is all for this month. Please have a safe and fun July 4th weekend.
~ Mitchell Valcich, Chief, Montauk Fire Department
https://www.montaukfiredistrict.org/