Photos by Richard Lewin Professional Photography (soniboy@aol.com)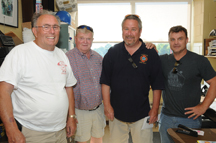 Welcome to this month's Montauk Fire Department Corner. I hope everyone is having a safe, happy and fun summer. We've been busy at the MFD, as is usual during the summer, but I'm happy to report that most of our calls have not been of a serious nature. I have to attribute that in some way to a recent increase in safety consciousness by our citizens and guests. Please keep it up.
As we all know this is picnic season. This is true also for the members of the Montauk Fire Department and their families. On Monday, June 25th the Department held their Annual Family BBQ at our main headquarters on Flamingo Road. Hot dogs, fresh corn and cold drinks were on tap for this year's event. I'd like to thank Company No. 4 (Montauk Ambulance Company) for volunteering to cook, and everyone
else who attended and chipped in. As always the BBQ was well attended and camaraderie was the order of the day. Please enjoy the pictures provided by Honorary Chief Rich Lewin.
Also, what's summer in Montauk without the annual Montauk Chamber of Commerce fireworks? They are always held on the actual date of the
4th, and this year was no exception. I'm happy to report that the Montauk Fire Department volunteered once again to stand by at the scene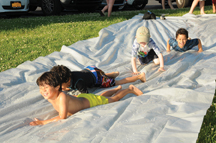 to provide fire suppression, emergency medical services, and traffic control. It was a beautiful night in Montauk, the crowds were large, the fireworks were great, and there were no
incidents or accidents reported. It always gives me pleasure to be able to assist organizations that perpetuate our Montauk, and theMontauk Chamber certainly does that.
Montauk Fire Department Profile: JON R. FORSBERG
Fireman Jon R. Forsberg is a lifelong resident of Montauk and has been an active member of the Department for over forty years. During his tenure in the Montauk Fire Department Jon has served in Company No. 3, Company No. 5, and is presently serving in Company No. 6 as a fire policeman. Jon has had many collateral duties for the Department over the years, but the most important by far is his chairmanship and leadership in the annual blood drive. Jon's many years of commitment to the blood drive has been spectacular, and I'm sure many lives have been saved because of it. Fireman Forsberg is also a past recipient of the Montauk Fireman of the Year award. Jon proudly served in the U.S. Army for 3 years, including a year in Vietnam. He has two beautiful grown children and three gorgeous grandkids, which he attributes to his ex-wife's good looks. He operates his electrical contracting business as a master electrician and is celebrating 40 years in business. When asked if he will retire he responded "No, I will rewire".
Thanks for keeping up to date with the Montauk Fire Department. See you next month.
~ Vincent Franzone, Chief, Montauk Fire Department