Photos by Richard Lewin Professional Photography (soniboy@aol.com)
Hi, and welcome to the first Fall MFD Corner. With all of the hot and humid weather we have been having, it is hard to imagine that the cold weather will be upon us again soon. The arrival of the heating
season means that it's time for some annual safety measures in your home, to minimize the risk of fire. Please be sure your fireplace, furnace and flu are clean and clear. Check the batteries in your smoke alarm and carbon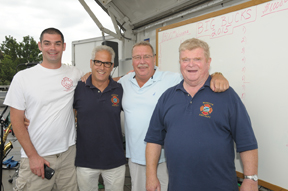 monoxide detectors.
The arrival of fall also means that the MFD will be holding its biggest annual fund raiser—Big Bucks Bonanza, this year on Sunday,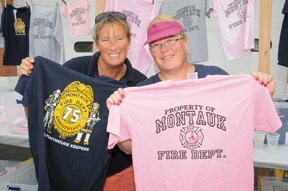 September 16th at 1 p.m. the Fire House. Tickets will again be drawn from the big drum, for cash prizes, up to the Grand Prize of $50,000. Long time Treasurer of the MFD Dick White reports that the origin of the name "Big Bucks" is the 1983 Big Bucks drawing held in Lagrange, New York, near Poughkeepsie. Ralph Hansen from the Montauk Post Office
was visiting Lagrange at the time, and saw the announcement in the local
newspaper, and thought it sounded perfect for our own Department. After experimenting with different dates for the event, the third Sunday in September turned out to be the best choice. We hope to see you there for the excitement, the food and drinks. As always, the young "MFD Super Stars" (who must not be able to read) will be
picking from the drum, and the MFD "Chief Engineer" (yours truly Chief Vinnie Franzone) will announce the names of the winners. Please see the photos from past Big Bucks Bonanzas here by MFD Honorary Chief and Photographer Richard Lewin.
Enjoy the rest of the summer! See you next month.
        ~ Vincent Franzone, Chief, Montauk Fire Department