ARF Annual Bow Wow Meow Ball
by Debra Rose
On Saturday, August 18th ARF held their annual Bow Wow Meow Ball, to honor event designer David Monn with the Champion of Animals Award. The evening celebrated ARF's life-saving work, held on ARF's 22-acre campus in Wainscott.
Over 400 guests enjoyed cocktails, followed by dinner catered by Olivier Cheng and a party with dancing to music by the Peter Duchin Orchestra. This magical night aims to raise proceeds to benefit ARF, a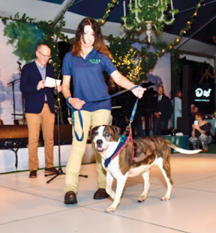 regional leader in New York for the rescue and adoption of cats and dogs.
The animals in ARF's care come from animal control centers, puppy mill rescue efforts, and from people who can no longer care for their pets. In 2018, ARF will intake over 1,600 dogs and cats at its state-of-the-art Adoption Center. ARF provides full medical care—including spaying and neutering—to all its animals in addition to humane care for their basic needs. Once medically evaluated and socialized the dogs and cats are made available for adoption at its Adoption Center and through its mobile adoption van and offsite events held across
the greater New York region. Since its inception, ARF has rescued more than 27,000 cats and dogs and placed them with loving families.
For more information about ARF, please visit www.arfhamptons.org
****************
ARF Animals of the Month
SUNNY: This gorgeous girl is Sunny. She is 10-years-old, and she is blind. She is friendly and loves attention and to be petted. This low maintenance kitty just wants a lap to lie in, in a quiet home.
DUFFY: Duffy is a happy seven-year-old dog who likes to play fetch and go for long walks.He gets along well with other dogs and is housebroken. He is a well-behaved dog that will be a great companion.
For more information contact
adoptions@arfhamptons.org or call 631-537-0400 x203.
All ARF animals are vet checked, spayed/neutered, microchipped and up to date on all vaccines. To view all of our adoptable animals, visit: www.arfhamptons.org
NYS Registered Shelter/Rescue #RR035