by Sue Giustino
Lynn's Hula Hut creation is a long way from where it began. This adventure started with a mobile Tiki-bar that Lynn created from an extended Chevy pick-up. While doing private parties and events in Montauk and throughout the Hamptons she was inspired and encouraged to take her idea to the next level, and the dream slowly took shape. After over two years of red tape, Lynn's Hula Hut was opened in 2013. Montauk may not be tropical, but it is a paradise, and Lynn's Hula Hut adds to that sweet tropical feeling.
It's a Polynesian Tiki-Hut in Montauk, yet it's actually a converted office trailer in the parking lot at the Montauk Marine Basin located at 426 W Lake Dr. It may sound strange- and it is at first, but when you walk through the bamboo and palm trees, onto the sand and under the canopy, then have a seat at the bamboo shrouded bar, or one of the cozy chairs /couches, or stroll into the peaceful Zen Den, the location becomes secondary. Except of course the view of the dock and boats enhances to the seaside feel of the 'Hut'.
Aside from the ambiance, the unique exotic cocktails (created by Lynn) with handcrafted syrups, fresh purees, and infused spirits are light, refreshing and tasty. Some of our Tequila favorites are the Shark Bite Margarita and the Coco Loco. Made with lime, cucumber, jalapeno, and cilantro, the Shark Bite is spicy deliciousness.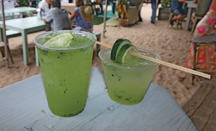 If a pina colada was made with tequila and lost the cream, you'd have something like the Coco Loco. Made with Lynn's Coconut Infused Tequila, cucumber, lime, and a hint of pineapple, it is my new favorite 'waterside' cocktail. Featured in several international publications, her other unique creations include Hukilau Lemonade or Mule, and the Hot Pink Drink all made with her own Hukilau Lemongrass and Ginger Vodka. Other drinks like the Mellow Yellow, Skinny Tahitian, Tahitian Snake Charmer, Papa Loves Blondes or the Mayan Chocolate include her own Le Tahitian Vanilla Vodka. Vodka not your flavor? You can always try a Hula Juice Spiced Coconut Rum creation:
The Hula Juice Rum Punch, Lynn's Pain Killer, Nutty Samoan, Spiced Coconut Mojito, or the Lotta Colada.
In addition to these and other cocktails, a simple but delicious chalk board Tacos & Tapas menu is also available, including: Shrimp Cocktail, a Smoked Fish Dip plate, Bang Bang Shrimp Taco, Mahi Mahi Taco with shaved fennel slaw, and Sesame Noodles with scallions and cilantro. Nothing is fried and the dishes and cocktails are blended and accented with fresh herbs from her herb garden right at the hut.
While sipping on our cocktails and listening to Jay and Eric from 'Remember September' and then the entertainment of 'Deep Sea Revival', we enjoyed a few other dishes from the menu. Tender and plump, the Asian
Lemongrass Chicken Dumplings, with scallions and Ponzu are a lovely snack. While the Watermelon Salad with feta, mint, basil, red onion, lemon and balsamic, and garnished with beautiful edible flowers is refreshing and bursting with an array of 'summer' flavors. Accented by the spicy peanut dipping sauce, the Grilled Chicken Skewers were also a tender and delicious treat.
Hosting locals and visitors from all over the world, Hut guests can enjoy live music nightly from 5:30 PM to 9 PM. Don't miss Saturday and Sunday fun featuring Bloody Marys and Bellinis, with an awesome bloody Mary bar and Goldbergs famous bagels.
Lynn Calvo is a renowned bar chef, Creator of Lynn's Hula Hut in Montauk, Author of cocktail book, "Tiki with a Twist," published by Sterling Epicure, and most recently CEO of Hula Hut Spirits now in distribution with Southern Glazer Wine & Spirits.
The top three selling natural infusions, which began at the bar years ago, are now in a bottle; the Spirits were launched 6 months before COVID and are now distributed throughout NY by Southern Glazer Wine & Spirits. For more info and future distribution go to hulahutspirits.com.
All Natural and expertly crafted HULA JUICE RUM: Hula Juice spiced coconut rum is made with pure cane and several all-natural trade secret spices. An exotic twist on spiced rum it's full bodied and rich, smooth and versatile. One sip and you'll be… "Hooked on Hula Juice!"
100 % American Corn, all natural, and gluten free LÉ TAHITIAN VODKA; is infused with the natural essence from real Tahitian Vanilla Bean and fresh pineapple; amazing on its own over ice or in a variety of cocktails. "No matter where you are, you're one sip away from paradise."
All Natural and Gluten Free LÉ HUKILAU VODKA: This Thai and French Polynesian inspired blend is infused with natural essence of ginger and lemongrass. It's soothing and delicious, and perfect on its own or in a cocktail. "It's a heavenly slice of tropical paradise."
Lynn's Hula Hut also invites local artisans and crafters to sell their art at no charge, every weekend. All you have to do is email her to reserve a space.  Lynnshulahut@gmail.com