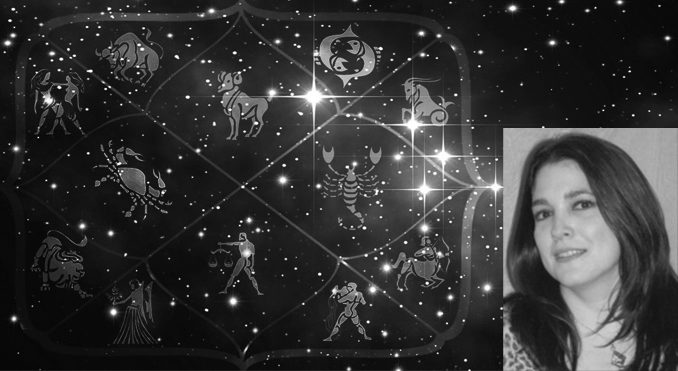 by Francine Tesler
Gemini (May 22 – June 21) — Happy birthday Gemini! Your ideas and concepts are appreciated by a friend or partner early this week, giving you a confidence boost that has you flying high until the weekend. Singles should consider painting the town red on Friday night. Your charms will attract many. Couples will be more interested in quiet moments of candlelight, wine and a nice meal; while creating a special evening of romance.
Cancer (June 22 – July 22) — Singles will be supercharged early in the week if their focus is getting to know someone new and potentially very special. In fact, you may not be able to focus on much else. Make plans to spend a day together over the weekend; if nothing else, you may be able to get some work done midweek. The desire to realize greater gains and profits permeates the week. Discussions with your banker and broker can produce good results-with additional capital sources. A lover will have good suggestions in addition to this. Investments in real-estate may be contemplated.
Leo (July 23 – August 23) — This is one of your better periods for seeing things more clearly. Giving you the ability to look ahead and deal with long range matters. It's a fine time for moving about and doing the traveling you wanted to do earlier this year.
Virgo (August 24 – September 22) — Your sign has sometimes been labeled as "critical or judgmental". This label is just a bad rap. Virgo is much more. You help others, in many situations. You have an eye for all details. Try not to criticize others at work. Trouble could erupt with crushed egos. Friendly contacts will come out of nowhere. Keep open to all possibilities. You are capable of many kinds of endeavors, so try not to restrict yourself.
Libra (September 23 – October 22) — Tolerating a friend with a forceful personality isn't easy to endure but try to stick with it. Offer love and patience. Plan your weekend festivities today. A weekend getaway will be rewarding. The beach is good place for soaking in the first real days of warm weather.
Scorpio (October 23 – November 21) — A Gemini makes a dramatic appearance. This makes your activities more adventurous. It's an opportunity for making love, enjoying romance, dating-and giving or attending a party or event. Spontaneity permeates your talk and actions. Your children have good news for you.
Sagittarius (November 22 – December 22) — If your mate appears to be in a cranky mood and high maintenance all the sudden they may be sensitive for other reasons. They may feel as though you are not being attentive enough towards them; make sure they know you love them. Midweek is a good time to show your feelings; let your silly side show and dig up some brand-new activities and interests to explore together. You are about to find out who your real friends are. This week poses emotional upheaval. Use this period to examine your relationships.
Capricorn (December 22 – January 20) — A Taurus or Leo may try to be possessive with you. Although this may be flattering, view the bigger picture. It appears their behavior perhaps may indicate some insecurity. A new friendship opens doors. This period is charged with adventure, chance taking and drama. You feel part of the big-scene very much. You reach out for love, approval and appreciation. You won't be disappointed with reception you receive.
Aquarius (January 21 – February 19) — Don't let difficult or mischievous people bother you. Stick to what you want to do, warding off any distractions and annoyances. You will break free of the pest. A love interest reveals their vulnerable side. A Libra will impact your week. Traveling this week is good. There may be suggestions about planning a trip you may take at end of October or November. Organization interests can get in the way of clear thinking.
Pisces (February 20 – March 20) — A new friendship may develop into more than you expect. Encounters with an Aquarius prove to have romantic possibilities. It could open doors to new social circles. Express yourself, especially to the one who loves you most. Your family is just trying to help although you may not see it now.
Aries (March 21 – April 20) — Avoid arguments and disagreements. Other people around you can be edgy and irritable. Do not take their reactions personally. Their reactions are related to their own personal problems. Share more with lovers and partners in making plans for time spent together. Your way with words may either do you much good. It depends on whether you either speak up to help others or you just criticize them. What you say can make allies or create enemies. Will your words hurt or heal?
Taurus (April 21 – May 21) — Spend some time talking and enjoying your mate instead of watching a movie or running errands. Singles may be getting involved in an office flirtation. Enjoy the excitement and just go slowly. Mixing business with pleasure is usually not a good idea. Spend the weekend with old friends who may be feeling neglected and clear your head through favorite activities.
__________________________________________
Please call Francine Tesler Psychic Medium Medical Intuitive for an
appointment in her office: 220 King Street • Chappaqua, NY 10514
(914) 469-6693 • FrancineTesler.com