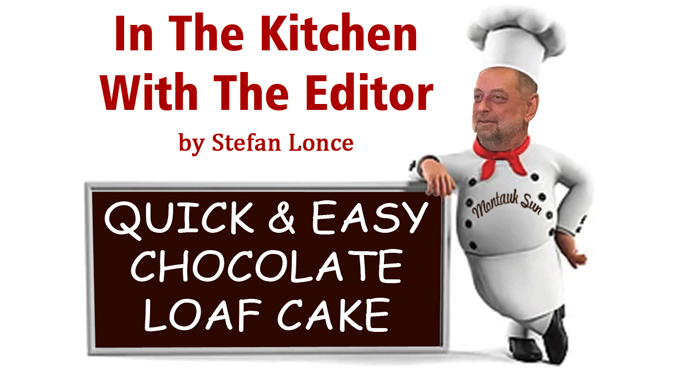 by Stefan Lonce
I love chocolate and cinnamon…especially together!  What I don't love is getting dressed and leaving the house should I come down with a yearning for them.  If you've read any of my columns in the past, you know that I will gladly spend time in the kitchen if t means I don't need to go to the store.  Of course, this also means coming up with recipes which use ingredients I always have on hand as well as being quick and easy enough to ratioalize saving the 15 minutes it would take me to run up to the corner and back.  That's where this recipe comes in. It uses cocoa, which I always have on hand whereas most recipes for a cake this
moist calls for Baker's Chocolate! Do you keep that on hand? I don't. The hot water in the recipe takes care of that…it disolves the cocoa powder and gives the richness of a solid chocolate. Clean up is minimal…it doesn't even require a mixer…and only requires 10 minutes of your time!  Besides all of those pluses, it's a super moist chocolate cake, so moist it doesn't need a frosting, great with a cup of coffee.  ENJOY!
EASY CHOCOLATE LOAF CAKE
INGREDIENTS:
1 Cup All-purpose Flour
½ Cup Unsweetened Cocoa Powder
2 Tsps. Baking Powder
½ Tsp. Cinnamon
¼ Tsp. Salt
2 Large Eggs at Room Temperature
1 Cup Granulated Sugar
½ Cup + 2 Tbls. Unsalted Butter, Melted
½ Cup Milk at Room Temperature
1½ Tsp. Vanilla Extract
¼ Cup Hot (about 120°) Water
DIRECTIONS:
Set 2 eggs and ½ cup milk out on the counter for a half hour to come up to room temperature.
Preheat your oven to 325°.  Grease and flour an 8½" x 4½" loaf pan (I use a tbls. of flour mixed with a tbls. of cocoa powder).
Place the butter in a small pan and melt it halfway over low heat. Once it's halfway, remove it from the heat and stir it until it is completely melted and set aside (this way the butter isn't hot enough to cook the eggs when it's added to the batter).
Place the flour, cocoa powder, baking powder, cinnamon and salt in a large mixing bowl and stir together with a whisk. Set aside.
Place the eggs and sugar in a medium bowl and whisk together until just combined.
Add in the melted butter, milk and vanilla extract and whisk until combined.
Pour the melted butter mixture into the flour mixture and stir with a spoon or rubber scraper until almost combined. Once almost combined, add the hot water and stir until completely combined.
Pour the mixture into the prepared pan and bake for 40-45 minutes or until a toothpick inserted in the center comes out clean (a few crumbs are fine).  Let the cake cool in the pan for half an hour, remove from the pan, and let cool another half hour on a wire rack. Slice and ENJOY!