by Sue Giustino
UNDER NEW MANAGEMENT!
The Montauk Manor is happy to announce that their restaurant is under new management- the new HILLTOP MANOR RESTAURANT is run by Mike Nasty and Executive Chef Joel of the Tauk at Trails End restaurant.
Under the guidance of executive Chef Joel, Chef Francesco 'Tado' is working his magic at Hilltop while Chef Joel is on-site at Tauk. The three of them make quite a team! Newly expanded and renovated, dining choices include the dining room, outdoor patio, and the new lobby bar.
We chose to eat in the outer lobby area to enjoy the architectural beauty of the Manor built by Carl Fisher in 1926. With a full bar, this cozy new nook with a fireplace is a lovely spot for a meal, or to sit and enjoy a before or after dinner drink.
Jess, our waitress was welcoming and friendly. We ordered the highly recommended Mushroom Rockefeller stuffed with spinach, garlic, shallots, white wine, cream and a parmesan crust; they were creamy and delicious. According to Chef Joel New England Clam Chowder is the only item on the menu that is also at Tauk. I can understand why, it's full of fresh herbs, clams and potatoes, quite worthy of both menus.
The Fritto Misto is a new take on fried calamari offering a combination of shrimp, calamari and banana peppers all lightly coated and fried, served with marinara and a sweet chili sauce.  A generous portion of Fire Roasted Octopus with chermoula sauce is accompanied by a delicious marinated lemon garbanzo salad.
In addition to these fine choices, the list of 'Shareable' and 'Starters' also includes Pork Wings, Fried Cheese, Baked Clams, Mussels, Shishito Peppers, soups and salads. The summer menu, coming soon, will offer some seasonal changes.
With numerous choices from 'Land' and 'Sea', it was difficult to choose our main meal. We decided on an array of dishes, including one of the evening specials. The Catch of the Day was Halibut that was cooked perfectly with tarragon beurre blanc and dished with a lovely chopped succotash salad. Served with a spicy tomato cream sauce, green peas, and fresh crab throughout, the Crab Gnocchi is topped with breadcrumbs and shaved parmesan creating a creamy, flavorful dish.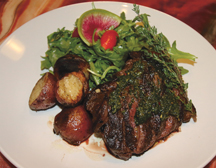 Perfectly cooked to order, the Chimichurri Hanger Steak with an arugula side salad and roasted potatoes has a delicious marinated/charr-grilled flavor.
Although I was tempted by the twin stuffed lobster tail special, we decided instead to go with the Shrimp and Scallop Scampi with Linguini. One of the evening specials, it was a unique version of the traditional scampi style. An abundance of tender shrimp and scallops were tossed with the scampi sauce, which was a bit thicker and less oily than usual, keeping everything nicely coated with the lemon-garlic flavor. The atmosphere and service, along with fine food and wine all made for an enjoyable evening.
Hilltop Manor Restaurant will be open daily for breakfast, lunch, and dinner throughout the season. With its beautiful location overlooking Fort Pond Bay, along with the history and feel of the building offering a look-back to the Carl Fisher-Roaring 20's Era, it's a perfect spot to enjoy a tasty meal any time of day.
Considering a corporate event, wedding or special occasion gathering? The Hilltop Manor Restaurant is the perfect location! For more information call (631) 668-8612.