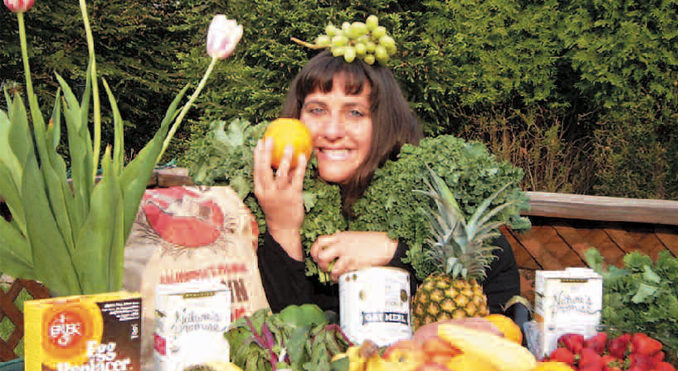 by Kimberly Experian
Thanksgiving Vegan Pumpkin Pie
Serve this delicious pumpkin pie with a dollup of vegan whipped cream for your Thanksgiving feast! Everyone will gobble gobble gobble it up!
Pie Shell
1 1/2 cups white or whole wheat flour.
2 Tbsp. soy milk.
2 Tbsp. vegan sugar.
1/2 cup oil.
1/2 tsp. salt.
In a large bowl, place all the dry ingredients. Add soy milk and oil, mix with a fork. Pat into a 9 inch pan with fingertips. Note* Vegan sugar makes the best texture.
Filling
1 cup vanilla almond milk.
2 tsp. pumpkin pie spice.
2 Tbsp. arrowroot powder.
1 (15oz.) can pumpkin puree.
1/2 cup raw sugar.
1/2 tsp. salt.
Preheat oven to 375 degrees. Combine almond milk, sugar and arrowroot powder in a blender. Blend until sugar and arrowroot powder are completely dissolved. Add pumpkin puree, pumpkin pie spice, and salt. Blend until smooth. Pour into pie shell. Bake for approximately 40 minutes or until a fork inserted in the middle comes out dry. Cool pie to room temperature then refrigerate overnight.
Vegan Whipped Cream Topping
2 (14oz.) cans full-fat coconut milk.
1/3 cup vegan powdered sugar.
Chill coconut milk and whisk attachment in refrigerator for 8 hours. Attach whisk attachment to mixer. Open cans of coconut milk, being careful not to stir or shake the contents inside. Carefully scoop the top thick part of the coconut milk. Discard the remaining liquid. Place thick coconut cream in a medium mixing bowl, add sugar. Whip until smooth and thick; about 20 seconds. Do not over whip. Use immediately, or refrigerate up to 4 hours prior to use.