We sat at our water view table, literally transported to another place that evening. The sun was glistening under a clear blue sky. reflecting off the tranquil waters below. Several
boats glided silently into the harbor after a day out on the ocean, heading to their slips for the night. Where was this all taking place, in a tropical destina­tion or some secluded is­ land? No, we were having our dinner adventure that night in Montauk at Gosman's Dock Restaurant. However, it truly had the aura of being at another locale and place in time. Located on the water at the edge of the entrance to Montauk Harbor, this site has always been one of the highlights and must see places to visit when coming to Montauk. Right up there with touring the historical Montauk Lighthouse, a visit to Gosman's Restaurant is an experience not to miss. Besides the main restaurant that we were having din­ner in that evening, there are three other restaurants, an incredible fish and produce market and scores of appealing shops to find unique gifts, clothing and home decor items. For several decades now, a visit to the Gosman Dock complex has long been our family's favorite place to eat and to bring along out of town visitors.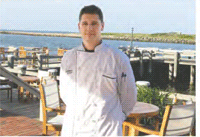 Looking over the menu and deciding what to order was not easy to achieve when it came to making a selection. For the past three years the restaurant's Chef, David Piacente, has expertly infused his culinary ideas to the popular favorites that diners request. A graduate of the Culinary Institute of America (CIA) and through his travels through Asia, France and Italy as well as experience in some of the renowned Hamp­ton restaurants, Gosman's menu reflects his influ­ences and creativity. Before our meal we had a chance to chat with Chef Piacente and he enthusiastically spoke about the key ingredient in all Gosman's dishes and that is the absolutely freshest seafood available. Located right next to the docks, when the fishing boats come in, Gosman's has the first pick of fish, lobsters, and all other shell fish. With these fine ingredients, Chef Piacente is inspired to combine New England recipes, local classics and unique pair­ings that keep customers happy and guarantee their return visits.
Guests to Gosman's Restaurant will find the menu is a seafood lover's de­ light. Appetizers include clams, cala­mari, crab cakes, mussels, steamers and our pick that night, tuna tartare cones. Served on a small rack to hold the pe­tite, wafer cones they were stuffed with spicy tuna, avocado and watermelon, garnished with pickled ginger. A winner in both taste and eye appeal. Soups, salads and the famous Gosman clam chowder and lobster bisque beg to be tried and it is impossible to satisfy one's cravings without multi trips back to taste other selections. Complimenting the food choices is an extensive bev­erage list that includes champagnes, sparkling wines, and specialty cock­ tails. Their wine list includes award winning Long Island wines, California, Italy, France, Washington State and New Zealand ones, sold by the glass or bottle.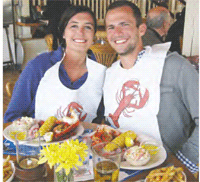 Our decision was simple, despite the tempting menu offerings. Gosman's Restaurant is synonymous with the word lobster, so one choice was the Surf and Turf. The six oz. fillet was grilled to absolute perfection the way my hus­band ordered and the huge lobster tail, grilled asparagus, and whipped mashed po­tatoes enhanced the plate's stars. The stuffing was amazing and filled with scallops and shrimp and could be a meal on its own! Saying you could cut the fillet with a butter knife was no exaggeration, as I leaned over to sample a piece from my husband's plate. Perfection! Other entrees listed under seafood were Montauk jumbo fluke, sea scallops, tuna steak and several shrimp dishes. There are also meat and poultry dishes available on the menu along with half a page of lobster dishes, Gos­man's signature offerings. I ordered the pan roasted fluke and the piece on my plate was a generous portion atop a bed of mixed bean salad, bok choy, and yuzu beurre blanc. Every succulent piece was heaven for both our dishes though we knew we'd have to come back to try the other entrees we overlooked that night.
Not one to turn down a dessert, I was almost to full to try one of their home­made selections, but gave in once I heard the choices. Homemade mango, strawberry pie, banana bread pud­ding with chocolate chips or key lime pie in a Mason jar and ice cream were related to us by our server Leah. When asked which dessert is the best she gave a broad smile and enthusiastically related, "They are all good!" I could tell she was giving a genuine opinion, which made me more indecisive. The Mason jar presentation, won out and it was delicious as it was unique in its retro glass container we have heard was a novel serving dish in southern locales. My husband opted for an Irish coffee, which was served piping hot and piled high with whipped cream. No conversation was exchanged while eating our desserts, only nods of taste approval with every bite or sip. Almost done with our meal other din­ers began filtering in and we overheard tables nearby having the same quandary on what to order. At the next table a young couple both had the lobsters and were happily putting on the protective bibs before starting to tackle the huge lobsters before them. Watching them so pleased with their meal I asked if I could take a photo of them for this article and they agreed. ("ll.shley" and "John" paused between bites to pose for my photo.) A woman at the next table was enthusiastically telling her husband, "Taste this warm banana bread pudding. It is out of this world." Hearing her boasting me sure of what dessert I'd be ordering on our next trip back to Gosman's.
As mentioned at the start of this article, the eating is a larger part of the experience of dining at Gosman's Restaurant, but the spectacular views and ambiance enhances the pleasure. The main dining room has three walls that are glass, floor to ceiling, whose win­dows allow a peek of nature happening outside. In warm weather, the top half of the windows are open giving diners the feel of being on the outdoor deck. Visitors like to come early to walk around the Gosman complex and start with a drink on the expansive patio and dock area newly decorated with attractive, handmade teak furniture imported from Bali. Guests can also sit at the high top tables on the DOCK to have cocktails and admire the view. It is a casual and appealing nautical atmosphere. While relaxing, guests have the opportunity to watch sea gulls perched majestically like sentinels on wooden pilings in the water waiting for incoming boats or observing people walking along the Gosman prom­enade. Eating at Gosman's is a sensory experience in every aspect of the word, with the sights, sounds and scent of salt air. It is pleasurable dining for either lunch or dinner that adds to the total visit to Montauk, the idyllic seaside resort! Gosman's Restaurant is open seven days a week and is located at 500 Westlake Drive, Montauk, N.Y. 11954 631668 5330 http://www.gosmans.com