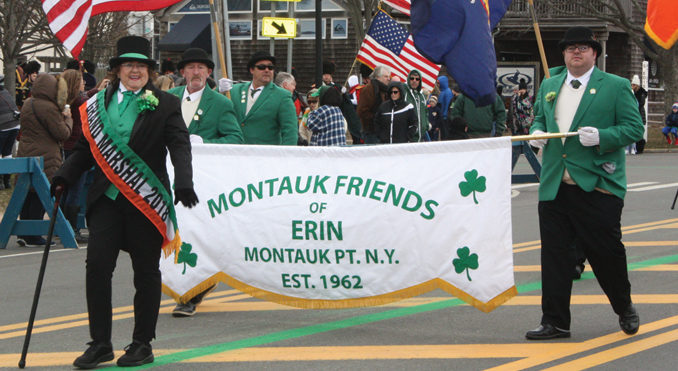 …by Evelyn J. Mocbeichel…
Continuing the week long festivities surrounding St. Patrick's Day, Kathleen (Kathy) Keller, Montauk's 2018 Grand Marshal, was honored again at an elaborate cocktail party. Held in the grand ballroom at the majestic Gurney's Montauk Resort & Sea Water Spa, more than 300 guests attended. As the 56th Grand Marshal, Kathy is the third in her family to be honored with the title. Her father was the Grand Marshal in 1969 and her brother in 2007.
This cocktail party is another element of a weekend long celebration of the Grand Marshal. The Montauk festivities always start the weekend after the actual St. Patrick's holiday. This is so the Friends of Erin and Grand Marshal can be in the New York City parade on March 17th, which has become their tradition. Montauk's celebration starts with a luncheon held on Friday followed by the cocktail party on Saturday at Gurney's and cumulating with the huge parade on Sunday. As with any party, the music and food always "make the event" and this party was no exception. Guests dined on a lavish buffet of both hot and cold foods, open bar, exotic drinks and desserts. What was favorably noticed was that the food buffet was constantly replenished by Gurney's staff, thereby satisfying guests that kept arriving during the 4–8 pm party. Exceptional service and organization also makes a party with such a large number of guests run smoothly and enjoyable for attendees. Gurneys, as usual, did a splendid job that night. When it comes to entertainment, music was provided by the talented and energetic Booga Sugar and was an absolute success.
Midway during the party, the Grand Marshal entered, escorted by the Amityville Highland Pipe Band playing their music and the Friends of Erin members. Dressed in top hat, sash and carrying the shillelagh, Kathy Keller accepted her Parade Proclamation Plaque and was celebrated by music from the pipe band. If you have never been up close, within feet to a pipe band, you are missing the thrill of hearing a ballroom filled with fantastic Irish music! All in all it was a well planned evening for a deserving Grand Marshal, Kathleen Keller. She will surely look back fondly on this full of activities weekend as part of a life time of wonderful memories. St. Patrick's Day celebrations are certainly another unique, distinctive Montauk tradition that is looked forward to each year!
Note to readers: Next year purchase your tickets for both events early, as soon as it is advertised, so not to be disappointed. Visit The Friends of Erin's website for year round activities and events that they sponsor and welcome the public to attend. http://www.montaukfriendsoferin.org/