…Photos by Richard Lewin Professional Photography…
Welcome, everyone, to this month's edition of the Montauk Fire Department Corner. I'm sure you are like me and are looking forward to the arrival of the spring weather.
As promised last month, we are once again profiling a special member of our Department so everyone will know that it's your friends and neighbors who make up the Montauk Fire Department. This month we profile Firefighter/AEMT Alan W. Burke. Alan was born and raised in Montauk, and runs his own excavating contractor's business. He has been an active member of the Montauk Fire Department for over 46 years. Alan began his volunteer service as a member of Engine Company No. 1, then moved to Ladder Company No. 5 when it was established. His passion, however, has always been for Emergency Services, so Alan became a very active member, and eventually Captain for many years, of our Ambulance/EMT Company No. 4. Besides being an ex-Captain he presently serves on two very important collateral duty assignments. He is the coordinator for our continuing medical education training, and is the Department's incident safety coordinator. As you can imagine these are two vital and demanding positions that involve dealing with the health and safety of both our members and of the general public. Alan's most memorable fire was the Sunrise Highway brush fire when the Montauk Fire Department lost a brush truck and some of our members were almost overrun by the fast moving fire.
Alan Burke has been a dedicated firefighter/AEMT for over 46 years. His knowledge and expertise have helped many new members. It is always a pleasure to work with a person of his caliber. I thank him, as I am sure you do, for his efforts.
On a sad note, I am sorry to report that the Montauk Fire Department lost three members of our family last month. Frank Tuma, past Fireman and Commissioner, Dave McMahon, past Fireman, and Ex-Chief Dennis Snyder all passed away in the month of March. On behalf of the Officers, and men and women of the Department I would like to send our condolences to their families. They will be sorely missed.
On Sunday, March 25th, the Montauk Fire Department once again marched in the Montauk Friends of Erin's Saint Patrick's Day Parade. It was the 56th annual Parade, and we were especially proud to march in support of this year's Grand Marshal, Kathleen Keller, and to
show off Company No. 2's new "Rescue 2" fire truck. Please enjoy these great pictures of the Parade supplied by Honorary Chief Richard Lewin.
Thanks for reading our article and for keeping abreast of the workings of the Montauk Fire Department. I look forward to talking with you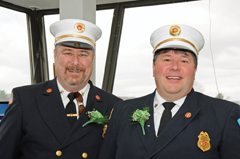 next month.
~ Vincent Franzone, Chief,
Montauk Fire Department