June 2021
Finally!! Warm weather, clear skies, & calm seas. Things are really shaping up fast, lots of bait fish, water temperature warming up steadily. It's go time everyone! Fluke fishing has had some good days already this season. Granted there are a lot of short Fluke to weed through, but they give anglers plenty of action and fun while waiting for the keeper. There have been some nice double digit fish come over the rail already this season.
Light winds and good tides provide ideal conditions for fishing Flatties. Historically, this time of year the south side is a good starting area to pursue your quest for Fluke. Watch for the birds, look on your fishfinder for the bait, then find an edge or slope and set up your drift to coincide with the particular tide at hand. If your marking bait fish, the Fluke shouldn't be far away. Keep in mind many times it's the beginning and the end of the tide where the Fluke will bite best, so try and be patient. As long as you are marking the bait and drifting along an edge, you should get bites!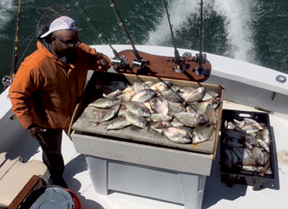 Anyone wanting some nice Porgy, they have been biting at Cherry Harbor. Just ride around till you mark a pile on your machine and drop the anchor. These tasty bottom feeders come each year to spawn in the shallow, protected waters of Cherry Harbor. Double hooked hi-lo rigs work the best and they love clams & squid. Great opportunity for the kids to learn how to feel the bite, hook the fish, and wind them in properly. The instant gratification keeps them interested and busy! When you get home and make your fish tacos out of the porgy, that are delicious, everyone will get a great night's sleep. If you know what I mean!! LOL
With the water warming up quickly, the Striped Bass and Bluefish have showed up! First came the schoolie Striped Bass, and lots of them. Great fun on light tackle, and can be found all along the beach. From Hither hills state park to the lighthouse. Now some keeper sized Striped Bass are showing up around the point at all the usual spots. This time of year watch for the birds and be ready with the diamond jigs. Great action on light tackle.
The birds usually make up anywhere south of the lighthouse right on out to Great eastern. Those who like trolling parachutes, find good action along the rips when the tide is running. Nice mixes of both Striped bass and Bluefish.
The time is now to make your plans and reservations, you don't want to miss out on what's looking like another fantastic season!!
There was a great Memorial Service at Salivar's Clam & Chowder House for Robbie Devlin the proprietor, who sadly lost his battle with Cancer. Great fisherman, family man, ran a great restaurant. His wife Eileen and her 2 sisters will keep the tradition of Salivar's Clam & Chowder House going this season!! RIP Robbie, you will be missed!
~ Tight Lines, Captain Skip