College Town Gainesville, Florida…where Nature and Culture meet!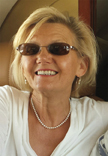 While students and parents are researching college towns all over the US, Marcus and I got to experience a big college town recently with a charming small town feel, Gainesville, in North Central Florida. Gainesville is home to the University of Florida and its campus is the fourth-largest public university campus by enrollment in the United States. Gainesville was established in 1854, and the University of the State of Florida was moved from Lake City to Gainesville in 1906. We may assure you that our visit here was truly inspiring, as Gainesville isn't like any other place in Florida. The combination of typical college-town vitality and protected natural beauty makes this place one of a kind.
My husband and I are history buffs and there was no doubt that we wanted to stay in Gainesville's historic district and within walking distance of its historic downtown, the UF, and restaurants. We found the Sweetwater Branch Inn, located in historic downtown and part of a Victorian complex that is surrounded by the magnificent McKenzie Gardens. Under family ownership, this historic Inn was featured on 'Inn Country USA' on PBS. Sweetwater is a Victorian complex of two carefully restored Victorian-era mansions (the McKenzie House and the Cushman-Colson House), several charming guest cottages, koi ponds with fountains and sculptured gardens, a modern reception hall, a putting green and a sparkling pool with tub. The McKenzie House, dating to 1895, is listed on the National Registry of Historic Places.
We arrived on a beautiful Thursday afternoon just in time for lunch in Gainesville's historic district and found a neat Asian restaurant in close proximity to the historic Hippodrome Theater. which is presently celebrating its 50th anniversary! In 1979 the Hippo moved into Gainesville's most prominent building, the historic Federal Building, listed on the National Registry of Historic Places located in the heart of downtown Gainesville. In 1981 the Hippodrome was designated as the State Theatre of Florida. www.thehipp.org — BTW, the 3 course lunch specials at the 'Liquid Ginger' Asian restaurant were well-priced and delicious!
We still had a couple of hours of adventuring until check-in and found 'Depot Park' within just a few miles of the historic district, functioning as the Central Park with an awesome playground. What was once contaminated earth here, the residue from the site's history as a rail yard, is now a blooming field of wildflowers and native plantings lined by decorative tracks that commemorate this former railroad transportation hub. Within steps from here we spotted the colorful Cade Museum for Creativity & Invention encouraging learners of all ages to think like an inventor, meet an inventor, and be an inventor. The Cade Museum is named for Dr. James Robert Cade, a professor of renal (kidney) medicine at the University of Florida and the lead inventor of the sports drink Gatorade. Interesting, isn't it?
We were in awe when we arrived at The Sweetwater Branch Inn. The magnificent three-story Queen Anne style Victorian home is known as one of the most elaborate Victorian buildings in Gainesville's history. Checkin was quick, friendly and accommodating. The gentleman at the front desk was so kind to remind us to take advantage of the daily 5pm wine & cheese hour (the Prosciutto was excellent) and homemade breakfast every morning. Our accommodations, The Hawthorne room, was so specious that it felt more like a suite. Boasting high ceilings and a large double-counter bath vanity featuring a beautiful magnolia mural and refinished distressed-look wood flooring, we felt right at home. The room featured a cozy sitting area with a neat coffee station, a large, all-white subway tiled walk-in shower, and a king-sized bed dressed with excellent bedding. It was charming, clean and comfortable. The Hawthorne is situated in the southeast corner of the Sweetwater complex, part of the newly-restored Mills-Pound Cottages and has a private entrance with two lovely white rocking chairs on the white-washed patio. Perfect for us, after all it was 3pm and we'd brought some chocolates to go with our coffee. www.sweetwaterinn.com
We'd been in contact with the Visitor's Bureau of Gainesville & Alachua County, Florida and were advised not to miss a visit to the Downtown Gainesville GNV Farmer's Market. Located just steps from the Depot Park and Cade Museum we found a farmer's market that takes place every Thursday, from 4 to 7 p.m. A variety of diverse vendors provide a selection of farm-fresh seasonal produce and prepared foods, including Cross Creek Honey, Dank Cakes, Fisher Farms, Frog Song Organics, Humble Woodfire, The Tempeh Shop, Wild Man Foods and many others. Fresh, sustainably grown and locally sourced produce was sold here. We would have had a ball shopping here for produce if we hadn't been traveling. Instead we got a terrific homemade Kombucha that we enjoyed while listening to the soothing sounds of 'Dim Lights' on the Heartwood Soundstage, a great 3-piece acoustic band that plays Americana, country, and bluegrass.
Tired as we were, we settled for Pizza on our 1st evening in Gainesville, besides it was Easter weekend and the restaurants were busy with parents and grandparents visiting and we didn't have reservations. We both love thin crust and were told that V's wood-fired pizza would probably be the way to go, besides we love V's (for Victory) story. V was the idea, creation, and funding of three Jacksonville natives whose main goal it was to bring true Neapolitan pizza to their hometown. Btw the young lady who served our table (her baby will be born in July) did an excellent job as well.
Practically just around the corner from V's we found a line of people waiting to get into an already packed coffee shop! Wyatt's Coffee shop hosted a Latte Art contest with great prizes to reward the most talented Barista. Of course I had to squeeze myself though the crowd to get a glimpse of the fun hype. Liam Holmes, the first place winner took home $300 Cash and other goodies! Congratulations!
We slept soundly after a whole day of adventures (we walked about 3 & 1/2 miles) but woke up the next morning early enough to experience the path through the gardens over to the Cushman-Colson House in the early morning light where a delicious, hot breakfast was waiting for us. Favorites like homemade frittatas and a French toast casserole, with bacon, ham or sausage, alongside fresh fruit and pastries, juices, coffee and teas were served with a friendly staff in attendance. —-We had planned a whole day of adventuring in the countryside that included Devil's Millhopper Geological Statepark, Sweetwater Wetlands Park, Kanapaha Botanical Gardens and then later after sunset the UF Bat Houses, no kidding. All the parks we visited were incredible but my favorite was Sweetwater Wetlands Park for their hiking trails while spotting birds, wild horses and alligators in the wild.
We found the best tasting tacos back in the historic district for lunch at Muñecas Taco Garden Downtown. Their sword fish tacos were so good that we went back for more the next day before we left town. It's a cool place with cool guests! From Muñecas garden we watched the Sock Ministry Group setting up tables with white cloth, in the Bo Diddley Plaza below, to serve the homeless and lost with a sit-down Easter dinner.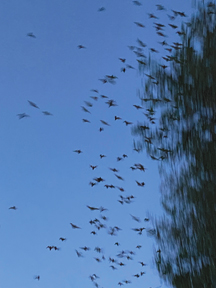 In order to experience the UF Bat House spectacular right after sunset that evening, we went for an early dinner at Harry's Seafood Bar and Grill. The food, Mahi Mahi, was fresh and delicious and the service was great. What can we say, we didn't have one bad meal in town. —Did you know that in Gainesville there are located the world's largest occupied bat houses, on the UF campus? By the time it was close to sunset over a hundred people were waiting to watch about 400,000 bats leave from their 'homes'. And sure enough the bats emerged 15-20 minutes after sunset, right before total darkness. The bats consume 2.5 billion insects each night! That's over 2,500 pounds! Spectacular!
Last but not least we spend the entire next morning at the Florida Museum of Natural History! Powell Hall's permanent public exhibits focus on the flora, fauna, fossils, and historic peoples of the state of Florida. The museum does not charge for admission to most exhibits but the exceptions are the Butterfly Rainforest and certain traveling exhibits. We especially liked the Discovery Zone, the Fossil Exhibition and the Butterfly Rainforest.
We experienced Gainesville as a clean, vibrant, fun, young, historic city that you all should experience, at least once. www.visitgainesville.com
Until next month from another interesting location!
~ Love, Ingrid
Escape From Paradise: www.EscapeFromParadise.net
www.facebook.com/ingrid.lemme      #EscapeFromParadise
Award-winning TV Host, Publisher, Travel Writer.
Ambassador for www.Seven-Stars.com & 15 Emmy awards      www.aTasteofHistory.org
www.twitter.com/LemmeEscape      www.instagram.com/ingridlemme