The Caverns of Luray and The Mimslyn Inn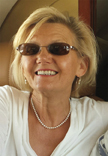 Just when you'd thought you've seen it all there comes along another place that will blow your mind. The natural wonders Caverns of Luray, in Virginia, which is located just 90 miles west of Washington, D.C. is one of those places. I have to admit that years ago during our frequent trips from Montauk to the Outer Banks, with my late husband Sunny, we'd passed by a few of the 'Luray Caverns' road signs, but obviously had no idea that deep beneath Virginia's Blue Ridge Mountains lay the largest caverns in Eastern America, designated as a U.S. Natural Landmark. Besides, the small historic town of Luray and especially its rolling downtown is just beautiful and a registered National Historic District. Luray is the nearest town to the Thornton Gap entrance to Skyline Drive (to the east), as well as serving as the headquarters for Shenandoah National Park. www.visitluraypage.com
We visited historic Shepherdstown last spring in West Virginia and while we'd stayed at The Bavarian Inn we saw a poster in their lobby for The Mimslyn Inn in Luray, owned by the same family, and decided right then we had to put Luray on our travel list. We'll never forget the fun time in The Bavarian Inn's amazing infinity pool overlooking the Potomac River! I loved their authentic German menu, especially the Sauerbraten and their juicy, fruity Schwarzwaelder Kirsch torte! www.escapefromparadise.net/post/almost-heaven
On the way through Virginia's colorful countryside we passed civil war trails, long vista overlooks, rivers, and parks until we finally arrived on Luray's historic Main Street. It was a beautiful, blue-skied mid-June afternoon and when we saw the Mimslyn's huge white columns rise high up on a hill overlooking their expansive lawns we knew we were in for a history treat. First Lady Eleanor Roosevelt visited the Mimslyn during a short visit in the late 1930s. We were welcomed with the same gracious hospitality the Asam family is so famous for. We took the elevator up on the third level that opened up to pretty, light-filled indoor and outdoor seating areas, both with fireplaces, overlooking gardens, landscaped terraces, little cottages and a sparkling pool with lounge chairs and a hot tub. We had been given the option to stay in one of these charming little cottages behind The Inn or in the main house, but love the Inn vibe. We opened the door to 301, one of the Skyline suites with mountain views, featuring a cozy king bed, and a pull-out queen size sofa bed in the little living room with an electric fireplace and a writing desk. The oversized bathroom, with a large jetted tub and double sinks, was definitely large enough to accommodate a family with kids. Conveniently there's also a small alcove in the little hallway fitting a fridge with a counter above and a coffee maker, very suitable for early risers like myself. I quietly watched a breathtaking sunrise over the Massanutten mountain range the next morning while I was making my tea and my husband was still asleep. www.mimslyninn.com
To make a long story short I am quoting parts of the Mimslyn's history from 'Historic Hotels of America': "The Mimslyn Inn was constructed amid the great economic calamity that affected most of the world during the 1930s. The Shenandoah Valley is a 140 mile stretch between the Allegheny Mountains and the Blue Ridge Mountains in western Virginia and in the 19th century it was considered the breadbasket of the Confederacy as the land was incredibly fertile and agriculturally productive. It played an integral role in the Civil War as the backdoor and convenient invasion route for the Confederate Army to attack northern states. On Main Street in the town of Luray, the Mims family owned and operated the existing Hotel Laurance and Mansion Inn. — JR Mims, Sr. designed a winding staircase, the Mimslyn Inn's most dramatic and romantic feature, which is considered an architectural masterpiece. —Today, the historic inn is under the ownership of a new family, Mr. and Mrs. Erwin Asam and their sons Christian and David and they continue the Mims' legacy of warmth, family, good service and quality. In 2008, a multi-million dollar renovation was completed and as a result, guests of The Mimslyn Inn can enjoy historic downtown Luray in comfort and luxury." www.historichotels.org
After we unpacked we first drove up to the Caverns Country Golf Club to assure that my husband would get a Tee-Time for the next afternoon, after our sightseeing. I knew instantly he'd be in for a visual treat besides golfing, nestled in the shadows of the Blue Ridge Mountain overlooking the fabled Shenandoah River. www.cavernscountryclub.com
Considering that the employment situation in Virginia hadn't returned to normalcy when we dined at the Circa '31 restaurant at The Mimslyn it was well staffed on a midweek's night. Take it from a foody, there's food and then there's cuisine—Chris Harris, the Executive Chef at Circa '31 had married Trout with Crawfish that evening, elevating my spoiled taste buds to new heights. His pan-fried Rainbow trout was smothered with a fantastic mouth-watering creamy Cajun crawfish sauce; served over a smoked Gouda Grits with bacon. Hosted by a terrific staff, with Ms Patience as our waitress and Ms Melissa the host, it was a dinner to remember. After another winner dinner the next day, I think of Circa '31 as a destination restaurant.
Over a piece of a house-made quiche for breakfast the next morning we met first with Jim Sims, the General Manager, who'd kindly inquired if we liked our accommodations and then Christian Asam, one of the owner's sons who stopped by to say hello. We'd met Christian's brother briefly at The Bavarian Inn last year and we were now happily reporting that we loved this place as well and weren't surprised that the cuisine here, though of course different, was excellent as well.
We started our Luray sightseeing tour by exploring the wonderful Shenandoah Heritage Village on the grounds of the Luray Cavern complex. A collection of local, restored historic buildings formed a small 19th century farming community here. Afterwards we walked through the Luray Valley Museum showcasing Shenandoah Valley artifacts from the 1750's to the 1920's. A 1536 Swiss bible, the centerpiece of the collection, connects the history of early settlers to their European culture and search for religious freedom brought to the Shenandoah Valley. Children may also learn about the history of gem mining in the region at the gem mining sluice near the Page Valley Mining Company.
Around noon we were good to cool off in the Luray Caverns, which have drawn many visitors since its discovery in 1878. A Smithsonian Institution report of July 1880, concluded: "It is safe to say that there is probably no other cave in the world more completely and profusely decorated with stalactite and stalagmite ornamentation than that of Luray." From well-lighted, all-paved walkways and step-free access, we explored cathedral-sized rooms with ceilings 10 stories high, filled with towering stone columns and crystal-clear pools. We listened to the haunting sounds of the world's only Stalacpipe Organ. Luray Caverns is open every day of the year. www.luraycaverns.com
As soon as we emerged from the unearthly world below we walked right into Toy Town Junction, a massive collection of over 30 trains and other themed miniature areas along with several thousand toys and train related toy artifacts. As the story goes, a young Richard Worden was fascinated by the coming and going of the C&O trains. In 1941, at age five and with the country just emerging from the Great Depression, his parents sacrificed to purchase a Marx Copper electric train from the Montgomery Ward Christmas catalog. It was his first toy train. Inspired by that Marx Copper, Richard began seriously collecting trains in 1978. His collection grew to include more than 30 trains as well as cars and trucks. He also began collecting themed Playmobil sets in the 1970s. Circus miniatures, dolls, and other collectibles round out the remarkable collection of several thousand toys and train related artifacts. Over the years, Dr. Worden, a retired Methodist minister, shared the joy of his collection with family and friends. In addition, an infusion of pre-World War II toys are also displayed from the private collection of Luray Caverns.
Last, for us, but definitely not least was a visit of the Car and Carriage Caravan Museum at Luray Caverns. Definitely a feast for my husband's eyes was the stunning centerpiece of the collection, an 1897 Mercedes-Benz, one of the oldest cars in the country still in operating condition. I personally was more fascinated by the 1925 Rolls Royce, owned by silent film star, Rudolph Valentino. The Sheik, starring Rudolph Valentino, was filmed in part on location in the Montauk Walking Dunes, as good a facsimile of the Arabian desert as one could expect those days. You didn't know, did you?!
Until next month from another interesting location.
Love, Ingrid
Escape From Paradise: www.EscapeFromParadise.net
www.facebook.com/ingrid.lemme     #EscapeFromParadise
Award-winning TV Host, Publisher, Travel Writer
Ambassador for www.Seven-Stars.com & 15 Emmy awards www.aTasteofHistory.org www.twitter.com/LemmeEscape      www.instagram.com/ingridlemme