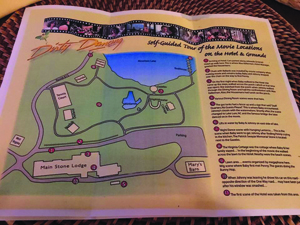 'The time of our lives at Kellerman's Dirty Dancing resort'
Little did I know that the principal photography for my favorite movie of all times 'Dirty Dancing' was never filmed in the Catskill Mountains of New York and actually took place at the Mountain Lake Lodge in Virginia — other than a couple of scenes which were filmed at the old Boys Camp at Lake Lure, NC that no longer exists. However the 'real Kellerman's Hotel' is located in Virginia where the famous 'water lift', most dining scenes, the beach games, Penny crying in the kitchen, and the Houseman family cabins etc. etc. were filmed. I can honestly say that from the moment of our arrival at the Mountain Lake Lodge I felt as I was walking around this famous movie set. During the production of the original movie, they had a tight schedule, which allowed them only two weeks for rehearsal and 44 days for filming, as it was already the tail end of summer.
Kellerman's authentic outdoor retreat is located in the Blue Ridge Mountains, part of the Appalachian Mountain Range, and the center of a 2,600-acre nature preserve. The Mountain Lake Lodge in Pembroke, Virginia, offers only a few Dirty Dancing-themed weekends a year where guests can see where Frances 'Baby' Houseman (Jennifer Grey) met, danced, and fell in love with Johnny Castle (the late Patrick Swayze).The present day lodge's bartender shared with us that the dancing and partying went on almost instantly amongst the crew (they all stayed here at the lodge as well) and immersed themselves in the environment, where the lead actors, Grey and Swayze, began identifying with their characters. Eleanor Bergstein, who wrote the screenplay, built upon this, encouraging the actors to improvise in their scenes. She also built the sensual tension by demanding that no matter how intimate or "grinding" the dance steps, that none of the dancers were to have any other kind of physical contact with each other for the next six months.
Filming started on September 5, 1986 at the rustic Mountain Lake Lodge but was troubled by the weather, ranging from pouring rain to sweltering heat. The elderly Paula Trueman, who played Mrs Schumacher in the movie, collapsed and was taken to the local emergency room to be treated for dehydration. Patrick Swayze also required a hospital visit; insisting on doing his own stunts, he repeatedly fell off the log during the balancing scene and injured his knee so badly that he had to have fluid drained.

Delays in the shooting schedule pushed filming into fall, which required the set people to spray-paint the autumn leaves green. The uncooperative weather then took a different turn, plunging from oppressive heat to down near 40 °F, causing frigid conditions for the famous swimming scene in October. The crew wore warm coats while Swayze and Grey stripped down to light summer clothing, to repeatedly dive into the cold water.
Relations between Baby and Johnny varied throughout production. They had already had trouble getting along in their previous project, Red Dawn (1984), and worked things out enough to have an extremely positive screen test, but that initial attraction had faded, and they were soon 'facing off' before every scene. There was concern among the production staff that the animosity between the two stars would endanger the filming of the love scenes. To address this, producer Bernstein and director Ardolino forced the stars to re-watch their initial screen tests, the ones formerly with the 'breathtaking' chemistry. That did the trick.
In the scene where Grey was to stand in front of Swayze with her back to him and put her arm up behind his head while he trailed his fingers down her arm, she could not stop giggling each time Swayze tried it. Swayze was impatient to finish the scene and found Grey's behavior annoying. However, the producers decided the scene worked as it was and put it into the film, complete with Grey's giggling and Swayze's annoyed expression. It became one of the most famous scenes in the movie.
"I'm scared of walking out of this room and never feeling the rest of my whole life the way I feel when I'm with you…"
"Mountain Lake Lodge is Kellerman's," Heidi Stone, the hotel's GM, told ABC News. "It is amazing how many thousands of 'Dirty Dancing' fans we meet every summer. We have guests from all over the world that come to Mountain Lake Lodge just for the Dirty Dancing Weekends."
Dining in the same room where Baby threw water on Robbie's (Max Cantor) face? Priceless! The food was terrific and three delicious buffet meals a day, served with stunning mountain views, were included in our package. To our surprise we found out that the Executive Chef was working already as sous chef at the resort during the filming of the movie and gave a ride to Swayze on back of his motorcycle down the mountain (3,875 ft) for errands. We got to visit the famous 'Virginia Cottage' during the guided walking tour, where Baby and her older sister stayed and emotions of visitors from all over the world were flying high, including mine.
Our accommodations were in close proximity to the ever so famous main hotel building and granted us views from our porch of the equally famous Virginia Cottage. The themed activities were endless and included a sock hop, a trivia contest, and a scavenger hunt, a screening of the movie during lunch at the famous ballroom, and a visit at the museum. Dance lessons and a dance party were also part of our 'Dirty Dancing' weekend where I relived my favorite scene while the dance instructor grabbed my newlywed husband and he went right along practicing his famous moves… We were fortunate to witness an engagement right there on the dance floor, and that night nobody put Baby in a corner.
Taking Kellerman's amazing Mountain Lake Lodge off my bucket list — until next month from another exciting location.
Love, Ingrid
Ingrid Lemme-Chalut, Award-winning TV Host, Publisher, Travel Writer, Producer, Author and Ambassador for www.Seven-Stars.com