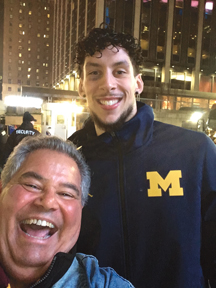 In February top College and High School basketball teams jockey for position before March Madness. The month started with a bang on Saturday February 1st with Rutgers playing Michigan in the Big Ten's Super Saturday at Madison Square Garden. Rutgers entered the game ranked No.25 with a 16-5 record(7-3 in the Big10). Michigan was 12-8(3-6) and unranked. It was a game of runs with six lead changes. Michigan led by three at half 37-34. A pair of Montez Mathis buckets got Rutgers an early 2nd half lead but Michigan scored 16 of the next 20 points in the game and led by fourteen points 60-46 with nine minutes left. Rutgers responded with a 14-3 run and got within two points before Michigan finished the game with six free throws and won 69-63. Brandon Johns Jr led Michigan with 20 points and 7 rebounds. He sported a black eye from the bruising game in the post game press conference. Michigan's Coach Juwan Howard stopped my summarizing of Rutgers' relentless rebounding efforts saying, "STOP.. we have to play them again" Rutgers Coach Steve Pikiell spoke about life in the Big Ten, saying it's the toughest conference in the nation. He was already focusing on Maryland who they would play in three days. You could feel the "Pressure Cooker" that is Big Ten Basketball in Madison Square Garden (the Mecca of Basketball).
Three days later I was at Ben Gordon Alumni Gym at Mt. Vernon High School for the game against New Rochelle. It's the biggest rivalry in Section 1 NYSPHSAA Boys Basketball. The schools being 1.6 miles from each other, fuels the rivalry. It was a back and forth game with the score going from Mt. Vernon leading 56-55 to New Rochelle leading 57-56 to Mt. Vernon winning 58-57 in the last three trips up & down the Court by each team. The final Mt. Vernon score came on a layup by Senior Captain Irvin Patrick followed by Senior Captain Troy Hupstead's block of a New Rochelle layup to seal the victory as time ran out. What a game! Hupstead led Mt. Vernon with 26 points, 17 rebounds & a game winning block. Patrick had 12 points with the final two being game winners. The thrilling win helped Mt. Vernon get a 4 seed in the 16 seed first round of NYSPHSAA Section 1 AA Playoffs.
The Knights beat Mahopac 57-44 in the First Round on Saturday February 22nd to advance to the Quarterfinals. Senior Captain Troy Hupstead led Mt. Vernon on Senior Night with 16 points & 10 rebounds. Next up for (12-9)Mt. Vernon is (16-5)White Plains in the quarterfinals. In late February it's win or your season's over in Section 1 AA Playoffs. High School and College basketball playoff season is underway, How sweet it is.