by Evelyn J. Mocbeichel
Whether attending a film festival, like the recent Hampton International Film Festival (HIFF) or watching television at home on a streaming channel, often our go to choice is a documentary feature. Sure we enjoy comedies, dramas and mysteries, too, but the fascination of a documentary enables the viewer to learn about areas they most likely will never see in person, or discover something from someone else's explorations and film making talents. The gamut of topics is endless from personalities, cultures; history, nature and exploration of the world and universe are covered in these exceptional films. Over the years we have seen some wonderful documentaries at HIFF that are truly worth viewing again by searching TV channels or borrowing a DVD from the library. Some HIFF films are shown in theatres around the country, while others might be on cable or Netflix. Some of them about distinct personalities were presented by The American Masters series on PBS and often repeated.
At this year's HIFF 2023 there was not enough time to fit in one of the films we wanted to see, but a friend, Mary went to see it with her husband Joel at the East Hampton theatre during the festival and raved about it. It was their first time at HIFF and they enjoyed the total experience and her email described the film. "My husband and I saw Wilding at the East Hampton Regal UA. The theater is a throwback to Long Island movie theaters with a modern feel.  Our experience started as soon as we got on the line, the volunteers for the Hampton Film Festival were helpful and courteous.  The documentary is filmed in England where a couple, Isabella and Charlie, inherit the four hundred year old, Knepp Estate. After realizing the soil is failing, the couple decided to go against tradition and return the landscape back to the wild.  The film did not have much discussion about the setbacks, funding and struggles the couple faced over decades. What the film did do was showcase the wonderfully, striking deep connection within nature.  The photography is breathtakingly sensational.  Isabella and Charlie daringly handover the land's recovery to a mix of animals. As the seasons go on, the land, animals, insects, birds and flora thrive.  We were so inspired by this positive, beautiful account, we left feeling emotional and optimistic."
The selections of documentary films we have seen cover a wide range of topics, from following the life of a successful celebrity, politician or to travels around the world, peeking inside other cultures. The following titles mentioned are ones we saw at various HIFF events over the years and many have now been shown on TV since then. They are worth searching out to discover more in-depth stories about each topic. The year the film was first featured at HIFF is noted.
2010: Last Play at Shea – Billy Joel is the star in this film about the history of Shea Stadium and Joel's musical performance there in 2008 for the last show before the stadium was demolished.  Paul McCartney surprised the 110,000 fans by appearing at that concert since the Beatles had performed there twice, so McCartney did a closing number with Joel. Other guests for that last concert included Tony Bennett, John Mayer, Steven Tyler and Garth Brooks, for a last play at Shea. This 90-minute film used historical footage and animation to also tell the story of changes in American suburban life and particularly Long Island and the growing city population that moved from the city. It is not a baseball film as one might suspect by the title. Here's a brief trailer summarizing the documentary https://www.imdb.com/title/tt1262986/
2011: Love, Marilyn is a documentary about one of Hollywood's screen star legends that remains an icon. That summer was the 50th anniversary of her death. Thousands of books have been written about her, but this intimate portrait reveals new details that exposed the core of the troubled actress. Whether you are old enough to remember Marilyn Monroe, or are captivated by her charismatic screen presence from her films, this is a must seen movie.   Director/Screenwriter Liz Garbus had access to Marilyn's never before seen personal correspondence, diary entries and archival footage and put together this extremely personal glimpse of the sexy star's tumultuous life. Starting from her Norma Jeane childhood, in and out of foster homes when her mother was confined to a mental institution, the film leads viewers through Marilyn's modeling days to her rise to stardom. Love, Marilyn featured current film stars reading excerpts of her intimate diaries with feeling, emotion and loneliness Marilyn endured.  Viewers will have mixed reactions on whether her early demise could have been avoided, but it is more understandable on why it did.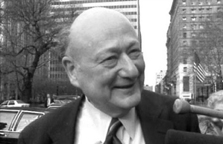 2012: Koch – No explanation is needed when defining the subject of this film, his Honor, the former Mayor of New York City, Edward Koch.  He was in charge of NYC from 1978 to 1989 and at the time the film was released he was 86 and still as feisty and entertaining in his film answers as he was on interviews during the time of his tenure.  Although "intensely private" Ed Koch is "combative, funny and blunt" in this documentary that depicts the major incidents during his time in office. Growing up in the Bronx, I remember quite well the many controversies that occurred when he was Mayor. This film Koch, gave an honest portrait of the man, what he endured and how he took on his critics and allies alike. Ed Koch may have passed on, but his legacy lives forever as part of New York history.
2013: Marvin Hamlisch – What He Did for Love – The notices for this documentary described him as a "Composer, conductor, genius, mensch, Marvin Hamlisch was as close to a modern day DaVinci as it gets. Hit after hit…'The Way We Were', 'Nobody Does It Better', 'The Sting', 'Chorus Line', Marvin was irrepressible and prolific. His streak was staggering. So what made a genius like that tick? What was his creative process? What struggles, inner turmoil, and breakthroughs did Marvin endure to realize his triumphs?" The film used Marvin's personal archives and interviews and comments from his classmates, contemporaries, and colleagues to capture the essence, personality of this musical genius. This story about this extraordinary man was also featured on American Masters series.
2015: Sherpa – This documentary was my husband's favorite. If you have never heard of or wondered what the Sherpa population goes through as guides on Mt. Everest, this film gives a harrowing, insiders peek. Watching this film and the scary climbing involved assured me, this challenge will never be on my bucket list! Because of a 14,000-ton block of ice that barreled down the mountain in April 2014, 16 Sherpa guides were killed.  In this worst tragedy on the mountain, the other Sherpa guides united to fight for respect and better working conditions as their share of profits are not proportional to the risk and work they do. The story shows the tourist adventures, some paying as much as $75,000 a person for the two-month climb and what dangers await both climbers and guides. Director/Screenwriter, Jennifer Peedom captures the intenseness of the climb, the tedious and precarious routes the Sherpa guides make to carry equipment, food and supplies for the tourists for the trip's duration. Photography is breathtaking as is the footage of the dangers on the mountain. Viewers are drawn into the Sherpa life as the film shows the tiny village and those left behind as the men leave to earn enough to get the family through until the next tourists arrive on Everest.  This film we caught again on the History Channel.
2017: Itzhak – Each year an Opening Night Film is selected to kick off the festival. In 2017 it was a fabulous film, Itzhak, a documentary about famed violinist, Itzhak Perlman.  The life story of this "greatest living violinists" capture the audience from the start and high praise is certainly deserved for Director/Producer Alison Chernick for this accomplishment. The story is told with vintage photographs, film clips and current interviews of Mr. Perlman and his wife, Toby, in their New York City aptartment.  She is also an accomplished violinist and they met when both attended violin camp as teens one summer.  Throughout the film viewers saw and heard the fantastic personality of Itzhak Perlman shine through despite the hardship of his early life and illness.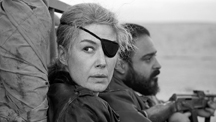 2018: A Private War – We saw A Private War, starring Rosamund Pike, portraying a real life war correspondent, photojournalist Marie Colvin.  This film showed what it's like being in a war torn area and the dangers journalists put themselves through to bring a story to the world, "giving a voice to the voiceless". Watching how these journalists live, the harrowing, on the edge of life and death scenarios they go through is unbelievable and at times hard to watch. When viewing nightly TV news, it's difficult to imagine the environment a reporter faces being in a dangerous conflict zone to capture a story.
There are too many excellent documentaries to possibly cover, so readers should seek out some they come across even if there is only a mild interest in the subject matter. It is amazing how a good story teller and fantastic photography can open up a new world of intellectual discoveries. There is a perfect quote by a famous documentary film maker, Albert Maysles that says it all.  "Documentaries are not diversion but engagement. We're not trying to move you away from life, but closer to it."  If you recognize his name you might know it from the 2006 documentary he made with his brother about Jacqueline Bouvier Kennedy Onassis relatives, cousins of hers. The documentary was, The Beales of Grey Garden, which was about the eccentric Edith, "Little Edie" Bouvier Beale and her mother Edith Bouvier Beale and was directed by Albert and David Maysles, who also appeared in the film. This truly riveting film followed the mother/daughter pair as they lived in their run down, decrepit house, Grey Gardens located in the upscale town of East Hampton, New York.
The Montauk Sun thanks FrankPR owners Clare Anne Darragh and Lina Plath and their team for their help, assistance and information throughout the eight days of the 2023 HIFF. With hundreds of films, shorts, discussions and events in the Festival and scores of press representatives attending, their task of supplying updates and schedules was vital in keeping information current for journalists and reporters. Their tireless efforts and friendliness was truly appreciated!