Pura Vida Puerto Vallarta, on a Port Day!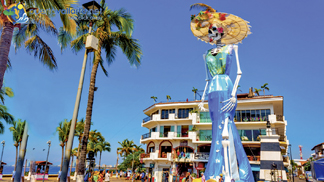 One of our favorite places, the city of Puerto Vallarta in Mexico, has recently received the distinguished recognition as one of "The Best Small Cities in the World" from the 2023 Readers' Choice Awards, an annual contest hosted by the publishing house of Condé Nast. And since we lived in Puerto Vallarta for a month, a few years ago, and recently visited once again while cruising up the West Coast, we wholeheartedly agree. Puerto Vallarta, or in short, 'PV', is not only distinguished by its history, unique architecture, fresh cuisine, lively atmosphere, and charm, but also by its diversity.  Puerto Vallarta, located on the Pacific Coast, is an ideal beach town for Northerners who long to get away during the winter months. Furthermore, PV is one of the safest tourist destinations in Mexico and is a favorite destination for visitors from all over the world, particularly Canada and the US.
Lucky us, my husband and I are fortunate to have friends who own a neat, little condo in 'PV' that we were able to use several years ago and spend the month of March there. Puerto Vallarta is a popular winter destination in Mexico due to its almost perfect winter climate, sandy beaches, and crystal-clear, turquoise waters. During the sunny and dry season, from November to May, daytime temperatures hover at 80° to 85°F and there is little precipitation, though we had a few days of rain during our stay. At night, the temperature dropped between 55˚ to 65˚, which was ideal for sleeping. The hot, humid, rainy season lasts from June to October, but it's the time we all play in Montauk anyway 🙂
The Peso was down, and the favorable exchange rate allowed us to also rent a small SUV and explore some of the small towns within driving distance, and eat out every day. Puerto Vallarta, which is characterized by its beaches and natural charm, is surrounded by the Sierra Madre mountains, amazing restaurants, and their famous hospitality. To put it simply, Puerto Vallarta was a magical place for us. We quickly realized that it's safe to leave your American Express card at home because most businesses and vendors only accept cash or Visa. Outside of tourist resorts, the average person is not fluent in English. "Lo siento. ¿Puedes ayudarme, por favor?"
Fast forward — We are now seven and a half years married and I was always hoping to return some day to the place of our beginnings as a couple. We both were widowers and had found each other through a dating site just six months before we decided to escape from the cold of the Northern winter and spend a month together in Puerto Vallarta. As you might remember, I wrote about our Panama Canal cruise on Holland America's MS Eurodam in the June '23 issue, which included stops in the beautiful ports of Puerto Vallarta, Cabo San Lucas, and other locations. While I wasn't as excited as my husband about experiencing a full transit through the Panama Canal, spending a day at the port in Puerto Vallarta did it for me. Besides, we had celebrated the holidays on MS Eurodam and fell in love with this beautiful cruise ship and its wonderful crew.
As MS Eurodam neared Puerto Vallarta in the early morning light, we were having a delicious breakfast at The Lido. Many of our fellow cruisers, especially the ones that had experienced "Old Town PV" and the one of a kind "El Malecón" before, had booked jungle or river excursions that departed right from the cruise ship terminal. We, who had practically lived here and had a familiarity with the area, embarked on our own. Instead of taking a local bus that connects the airport and the cruise port with PV's Old Town, we took a taxi because we wanted to visit our old love nest as well. Seeing the charming place of our beginnings as a couple was exciting and emotional. Nothing had changed, and many beautiful memories returned to life once more.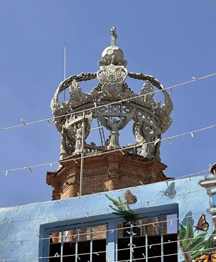 Before John Huston's 1964 film, 'The Night of the Iguana', Puerto Vallarta was just a sleepy fishing village on the Pacific Coast where the states of Jalisco and Nayarit met. Here, Liz Taylor came to visit her lover Richard Burton while he was filming with Ava Gardner. The town was put on the map due to the publicity buzz surrounding Burton and Taylor's love affair and the movie. The region of Puerto Vallarta is actually made up of multiple destinations, each with its own unique character and charm. The River Cuale divides the town into north and south. At the southern end is the quaint 'Romantic Zone' where the Playa los Muertos attracts sun worshippers to its golden sand and countless beach bar hangouts. Further south, the seaside villages of Boca de Tomatlan and Mismaloya beckon, and are where 'The Night of the Iguana' was filmed. North of the river, the 'Old Town' meanders uphill to Gringo Gulch and along the bay, where you'll find the Plaza de Armas (main square).
Since we had only a few hours, we wanted to spend much of our time on Puerto Vallarta's stunning, long seaside promenade, "El Malecón". Dotted with fantastic bronze sculptures, including the iconic seahorse, and sand sculptures and rock artists working along the beach, there's always something to see and photograph. And not to forget the incredible Voladores de Papantla. Each day on the Malecón in downtown Vallarta, an impressive ritual takes place, where the Papantla Flyers (informally known as the Papantla Pole Flyers) perform. Colorful, spectacular, and dangerous, it is considered the most ancient ritual dance in all of Mexico. www.puertovallarta.net/fast_facts/the-papantla-birdmen/
We followed the intricate and swirling pebble designs of the walkways on the Malecón until we almost reached The Pier, also known as the Mirador or 'The Sail'. This year, it is celebrating its 10th anniversary since its opening. The Pier and Sail were designed by the award-winning architect, José de Jesús Torres Vega, and was the centerpiece of an ambitious Downtown Puerto Vallarta renewal program. Boats may dock at the lower end of the pier, allowing passengers to embark and disembark from various water taxis, fishing boats, and smaller yachts.
Puerto Vallarta's calendar is filled with festivals, cultural celebrations, and events that embody the spirit and traditions of this vibrant coastal city. For Halloween, local custom dictates that costumes are on the ghoulish side, and local discos offer cash prizes up into the thousand-dollar range. The real bewitching hour, however, occurs a few days later on the Day of the Dead. The Mexican Day of the Dead is one of the most beautiful traditions in Mexico, where families gather to remember loved ones who have passed away.
As the celebrations begin at midnight on November 1st, these shrines can be seen dotted along Puerto Vallarta's Malecón. Folkloric ballets, mariachis, and Catrinas (painted skeleton masks) contests are part of the weeklong festivities. www.puertovallarta.net
Our day was unforgettable in one of Mexico's most beautiful and historic towns, and then we returned to MS Eurodam for a 'Sail Away Party' and a fabulous 4-course gourmet dinner that the Holland America Line is so famous for. www.hollandamerica.com
Until next month from another interesting location.
    — Yours in travel, Ingrid
Escape From Paradise: www.EscapeFromParadise.net
www.facebook.com/ingrid.lemme         #EscapeFromParadise
Award-winning TV Host, Publisher, Travel Writer.
Ambassador for www.Seven-Stars.com & 15 Emmy awards www.aTasteofHistory.org
www.twitter.com/LemmeEscape         www.instagram.com/ingridlemme