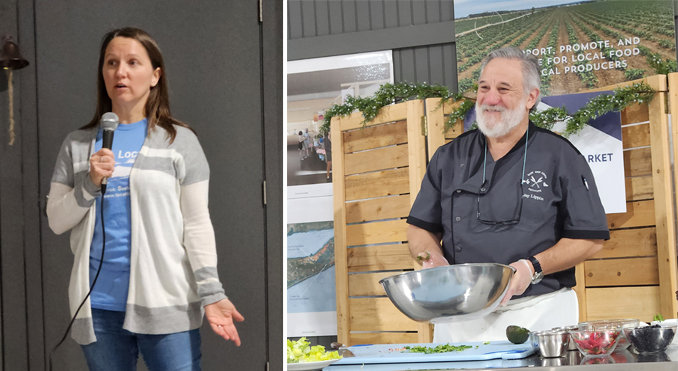 by Debbie Tuma
Kristin Gerbino, a Fisheries Specialist in the Marine Program of Cornell Cooperative Extension of Suffolk County, was introducing a cooking class designed to promote the use of underutilized fish. "Here on the East End we have about 50 species of fish harvested in our local waters," she said. "Many of them are popular like fluke, flounder, and striped bass, but we also need to educate people about using underutilized fish, like monkfish and tilefish."
Gerbino stood in front of a roomful of people seated at long tables, with place settings and glasses to try some of the local wines from the North Fork vineyards. They had come to experience a cooking class with well known Chef Jay Lippin, a winner of Food Network's popular show "Chopped." This event was being held in February at the huge East End Food Market building at 139 Main Road in Riverhead, an indoor farmer's market open Saturdays from November through April, from 9 am to 1 pm.
Kristin Gerbino explained that our fishermen catch a lot of monkfish, "which is hideous looking, and often it's shipped overseas, but it is delicious and healthy to eat, and we are trying to create a market for it out here, as well as other lesser known fish." She said it's sustainable and it replenishes itself, "so we like to keep it in our local economy. And when you choose local fish, you can be sure there's strict regulations, it supports the local fishermen, and it also gets to your plate sooner and fresher."
As part of their marketing program, Cornell Cooperative Extension teamed up with another organization, "Cook A Fish, Give a Fish," where they donate local fish to local families in need. So far they have provided over 6,000 meals to the community in need of food. Also, the evening's proceeds from this cooking class were donated to this program.
Jay Lippin, the Executive Chef at the East End Food Institute at Stony Brook Southampton campus, who also oversees the production of all "East End Food" products and gives out recipes to their 45 vendors, gave a cooking demonstration of how to prepare a delicious Monkfish Ceviche salad. He was also the Executive Chef at Odeon and Cafe Luxembourg in New York City, and was the executive Chef at Baron's Cove Hotel, and before that at Crabtree's Kittle House Restaurant in Chappaqua. He is also on the board of Slow Food East End.
Standing at a work area before the audience of about 30 people, Chef Lippin began slicing the white, meaty monkfish, which he said is low in calories, and is called "poor man's lobster." "Cooking is supposed to be fun," he smiled. "My job is to make people happy." He made a South American citrus mixture base containing lemons and oranges, to marinate the monkfish. He added some spices and pepper, to enhance the flavor of the dish. He sliced the monkfish in thin strips using a sharp knife, and added a zest of lime. He covered the fish and let it marinate in the refrigerator for 40 minutes. Then he chopped some Romaine lettuce from the farm, cut the cherry tomatoes in half, and chopped some red onions and Thai chilles. He added Cilantro, avocado, olive oil, salt and pepper, and some fried corn tortilla chips on top.He added the monkfish over that and it made a beautiful and healthy Ceviche salad.
Also in the audience was Stephanie Villani, who was selling her new seafood cookbook, "The Fisherman's Wife: Sustainable Recipes and Salty Stories." She and her husband, who live on the North Fork, own Blue Moon Fish. Alex Villani is the lone captain of the commercial fishing boat, Blue Moon. In her cookbook.memoir, available on Amazon, she shares family recipes, fish handling tips, and answers to your questions about seafood.
Kristin Gerbino said the next cooking class will be held on April 4, and it will be a virtual Japanese "Sushi Making Class with local fish," with Chef Youji. She said it's a cooperative effort with "Eating With The Eco System" out of Rhode Island.
For details and more information, go to www.localfish.org.