Miracle and Wonder: Conversations with Paul Simon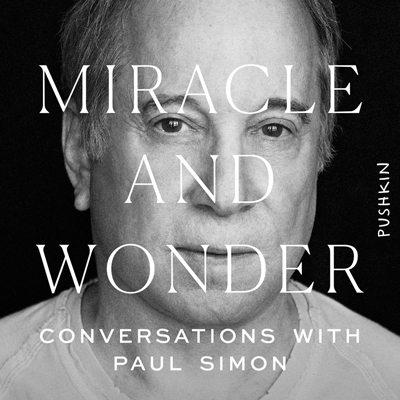 Miracle and Wonder: Conversations with Paul Simon, is a 5 hour and 45-minute intimate musical biography narrated by Malcolm Gladwell. Malcolm is president and co-founder of Pushkin Industries, journalist, and author of six New York Times bestsellers. The audio experience is the outcome of over 30 hours of recorded sessions; conversation between Simon, Gladwell, and Gladwell's oldest friend and co-writer, journalist, and Broken Record podcast co-host Bruce Headlam.
The audio opens with Malcolm describing his life- long admiration of Paul Simon's music and how surreal if felt- 50 years later- to be meeting with him in Manhattan to speak about sitting down and having extensive conversations about his career.  Apparently, Paul liked the idea. And how fortunate for us, the listeners, to have the opportunity to enjoy this creatively organized and narrated outcome of their candid conversations.
Topics include thoughts and reflections on Simon's music, artistic influences including his father and his childhood in Queens, NY, his Recording Engineer Roy Halee, as well as his collaborations with long-time friend Art Garfunkel and others. Perhaps the most interesting aspect for me, were the discussions which focused on the nature of creativity itself.
Woven throughout the commentary are snippets of archived never-before- heard audio tracks of live studio versions of some of Simon's favorite hits, including 'The Boxer" and 'The Sound of Silence'.  Bringing it to yet another level, quite a few times Paul picks up his guitar demonstrating how his music has evolved to meet his everchanging creative ideals gleaned through personal and societal life experiences, as well as aging.
Another aspect which resonated for me was Paul's ability to reflect on his career as one of America's most popular songwriters, without coming across as pompous. He discusses and pays homage to his many collaborations with artists from around the world, drawing from a multitude of genre and style; noting that often it all came together and they created something beautiful- as with his 1986 Graceland album- and then sometimes it didn't. Reevaluation and collaboration are qualities of a reflective talented artist who's not afraid to experiment, adapt, and change for the good of his craft.
These segments, where he describes blending his ideas and/or music with other musicians to create a masterpiece, reminds me of when he graced us here in Montauk at our 2018 Rock the Lighthouse Concert. During sound check, Simon recruited some of the talented musicians from the Tuatha Dea Band [participants in many of the May Montauk Music Festivals] to join him and the Montauk Project [his backup band for the evening] for a song.  He directed the stage with an easy confidence of a seasoned conductor, utilizing the talents of each musician…simply magical.
The result of this work between Paul, Malcolm, and Bruce, packed with music and conversation, offers a unique auditory experiential view into Paul Simon's 65-year legendary career as an artist creating work that endures.
Miracle and Wonder is a great listen for a walk or a road-trip- you'll feel like you're taking them along with you for the journey. For information or to purchase the audio recording- go to: https://www.pushkin.fm/audiobooks/miracle-and-wonder-conversations-with-paul-simon