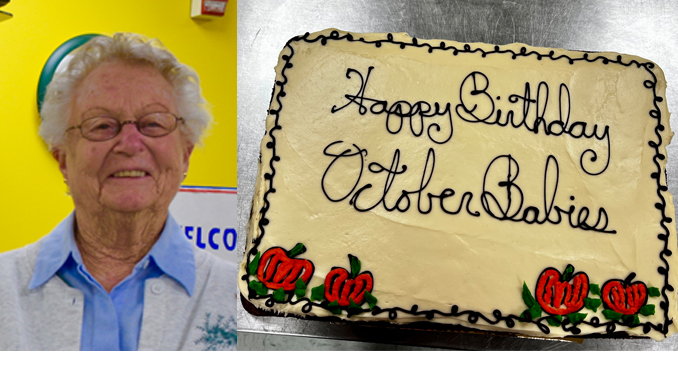 by Patria Baradi Pacis
Happy Birthday, October born, and beloved, Ann Petersen. Glad you came to the Center on Halloween for lunch, to cut your cake and to share it with your peers. It's always nice to spend time with family and friends who love you, especially on the day you were born, and to be able to sing "Happy Birthday" to you in person.
Whenever the month of October comes, I can't help but think of the late, Executive Director and co-founder of the Montauk Community Senior Nutrition Center, Eileen Bock, who was born on October 8, and who also passed away, on the exact date, 82 years later, in 2018. Eileen, the late, Dorothy Lamay and the late, Martha Nicholoulias, longed for a place where the young at hearts could have a place to eat lunch, to meet, to exercise and to play games. Previously, the seniors had to travel all the way to East Hampton. In 1993, the Center opened its doors at the Montauk Community Church's Auditorium and was later relocated in 2005, when the Montauk Playhouse on 240 Edgemere Street, opened its doors to the locals. On the corridor's wall, opposite the Center's door, there is a plaque that the Board of Directors presented to Eileen for her 25 years of service before her retirement. I am sure Eileen is smiling down on us for remembering her.
The Center is open for seniors 60 years old and over, their caregivers and guests on Monday through Friday from 10:00a.m. – 2:00p.m. For $3 you will be served, by hard working volunteers, a delicious, home cooked tasting, well balanced meal on real china and silverware. There's Chair Yoga given by Ms. Leah on Tuesdays and Fridays at 10:30a.m. After lunch at 1:00p.m., there is Balance and a Wellness talk given by Dr. Margaret on Tuesdays, Mahjong on Wednesdays, 75 cent a card, Bingo on Thursdays with lots of prices to win, and Dominoes on Fridays. Transportation is available except on Wednesdays. For more info, kindly contact Executive Director, Therese Jarmain at 631 668 1023 or e-mail her at mtksenctr@gmail.com.
Merry Christmas and a Happy Holiday to all! Hoping that 2023 will bring you good health and lots of happy moments with loved ones.