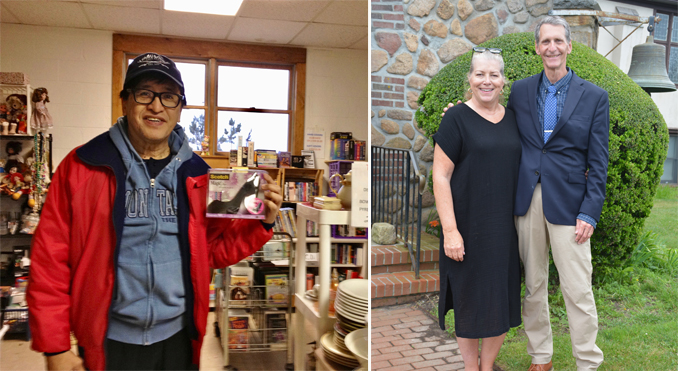 by Patria Baradi Pacis
Attention Bargain Hunters!
Every Saturday until Labor Day Weekend, from 9:00a.m. – 12:00noon, the Rummage Sale located in the basement of the Montauk Community Church under the helm of the Women's Guild President Iris Mitchell, Vice President Aster Stein and Treasurer Chrissy Herbert and other volunteers, has the best deals in all of Long Island. Take it from an expert, international, bargain shopper.
One can find new and slightly used women's, men's and children's clothing, linens, brick-a-brack, jewelry, books, toys, picture frames, small appliances and small furnishings. You name it, they've got it. Note: The Guild is looking for volunteers during the week for two hours or more if you are available.
All proceeds help the Church Building Fund and other charities such as the Women's Retreat, Montauk's Food Pantry, Nutrition Center, Meals On Wheels and "I-Tri Girls."
Please come browse, and have fun, even if you don't need anything, you can make new friends or talk to your neighbors. For more information, call Susan at Montauk Community Church: 631.668.2022 from 9a.m. – 2:00pm or go to: www.montaukcommunitychurch.org.
Church Congregation Honors Pastor Bill Hoffmann
On Sunday, July 11, the Montauk Community Church (MCC) congregation honored the much loved, Pastor Bill Hoffmann, three fold. First, the 25th anniversary of his Presbyterian Ordination, June 24, 1996. Second, the 10th anniversary of his arrival in Montauk, August 1, 2011. And third, his 4th of July 62nd birthday.
More than forty friends and neighbors, including Pastor Bill's wife, Valerie, his extended family, children and grand children traveled near and far to attend this joyous occasion. During the service with Music Director, Lydia Shaternik Burns playing in the background, Susan Raymond, the Session's clerk, presented Pastor Bill, a colorful, clergy stole, representing the church's stained, glass, altar window and depicting 18th-19th century Montauk's grazing grounds. Home made, dainty, pastries, showing the numbers 10's and 25's, baked by Catherine Ecker and served by members, Iris Mitchell, Chrissy Herbert and Fran Haak were devoured in seconds.
Congratulations Pastor Bill! Thank you for guiding the community through the past ten years, especially during the pandemic. Montauk is very blessed to have you.
For those who would like to attend this beautiful, Tudor style, a/k/a "Church on the Hill", just drop in! The church is located at 850 Montauk Highway and service starts at 10:00a.m. For more information, contact Secretary Susan McDonough on Tuesdays and Thursdays at 631.668.2022 from 9:00a.m. – 2:00p.m. or e-mail her at montaukcommunitychurch@gmail.com or check their website: www.montaukcommunitychurch.org. Online service is available every Sunday through the church's Facebook page or on YouTube by searching for Montauk Community Church. Donations of any amount are welcomed.