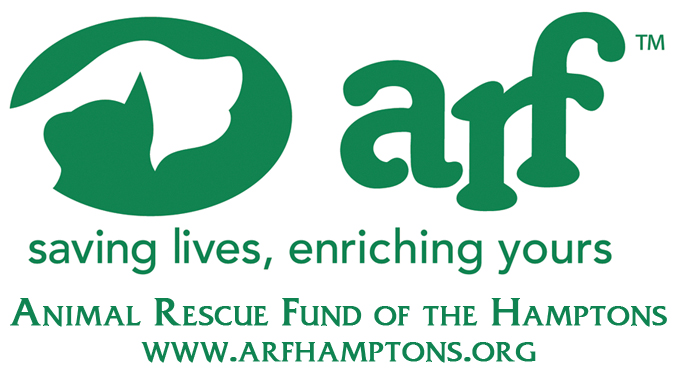 June 2021
ARF TO BREAK GROUND ON FOREVER HOME:
AN EXPANSIVE, HISTORY MAKING RENOVATION
AND STATE-OF-THE-ART BUILDING PROJECT
ARF Board Chair Katharine Rayner and the Board of Directors invite East End animal lovers to help ARF make ground breaking history at a community-wide celebration where specially trained canines will dig the first hole for ARF's dramatic new expansion, FOREVER HOME on Friday, May 28th, 4-6pm at the ARF Campus, 124 Daniels Hole Road, East Hampton, NY.
Kick-off Memorial Day weekend with a community celebration recognizing ARF leadership, patrons, volunteers, county officials, and animal lovers with Rolling in Dough's mobile pizza oven, Dreesen's doughnuts, and refreshments. Children and four-legged friends encouraged.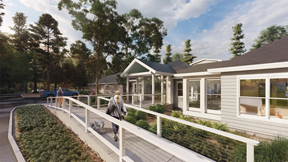 Since 1974, ARF has been home for tens of thousands of dogs and cats — FOREVER HOME is the largest renovation and building project to take place in ARF history.
FOREVER HOME is a state-of-the-art rescue, adoption, sanctuary and year-round training facility that will transform ARF's campus and the lives of our animals and their adopters. Designed by the Bacon Group, FOREVER HOME will be anchored by the Richard Wells McCabe Welcome Center. Dogs will move into a new 40-kennel building constructed with high-quality materials and a nitrogen-reducing waste treatment system along with flexible rooms for dogs with special needs, meet-and-greet rooms for adopters, and new outdoor exercise areas. A sophisticated HVAC system will cool, heat, and dehumidify the air, as well as treat it with UV LIGHT.
The space will feature retail and new homes for small dogs and puppies. Additionally, ARF's catteries and kitten room will be completely renovated and include custom-built features for climbing, perching, and play.
A new 8,400 square foot year-round training center will be built on-site to accommodate year round training, socialization, and enrichment to ensure animals become or remain adoptable, and increase our capacity to provide classes for the public and ARF's adopters. This state-of-the-art facility will include a viewing area, outdoor play yard, and an environmentally conscious waste system.
This extraordinary renovation was made possible by the very generous donations of animal lovers in Suffolk county and beyond as part of ARF's ambitious campaign to meet the challenges of adoption needs, and community outreach for animal rescue and welfare. The animal-human bond is a source of joy and comfort to so many, and the facilities in a community, which serve the needs of animals through adoption or training, are an important part of a happier, healthier community. ARF's programs go beyond adoption, into programs like our Pet Food Pantry, which provides free pet food to low-income families and veterinary and training services, which provide jobs and training that become a vital part of the surrounding community.
ARF invites everyone to be a part of their animal-loving community, with many opportunities to get involved. Contact ARF's Executive Director, Scott Howe at scott@arfhamptons.org or 631-537-0400 ext. 209 for information on supporting ARF.
---
Animals of the Month
BENTLEY: Bentley is a sweet, five-year-old kitty who quickly puts a smile on your face once you notice his adorable overbite and his little tail. Bentley enjoys wand toys, a good head rub and long naps. Bentley needed extensive dental work when he came to ARF, and he sometimes has difficulty grooming himself. He would love to have your help! He is a gentle boy who would prefer to be your one and only cat, but not to worry, he has plenty of love to give. Photo by Bridget Stonemetz.
PERK: Perk might be five years old, but he plays more like a puppy. He recently came to ARF with the help of our rescue partners in Georgia, and he has been described as rambunctious and exuberant. He is a fun-loving dog who is housebroken and walks well on leash, but he will need to continue his obedience training. He loves to entertain himself by tossing his toys in the air. Give him a good scratch on his back end, and he will quickly be your best friend. Photo by Will Yennie.
For more information contact
adoptions@arfhamptons.org
or call 631-537-0400 x203.
All ARF animals are vet checked, spayed/neutered, microchipped and up to date on all vaccines.
To view all of our adoptable animals, visit: www.arfhamptons.org
NYS Registered Shelter/Rescue #RR035
The ARF Adoption Center is open by appointment and adoptions are now conducted by appointment only. Please start the process by completing an application online. At this time, the shelter remains closed to the public. Thank you for helping us keep our staff and animals safe and healthy.
---
ARF's Drive-Through PET FOOD PANTRY
Saturday, June 19, 2021 12pm-3pm
ARF Adoption Center, 124 Daniels Hole Road, EH
Pet food pick up will be available for those who can use assistance, and donations of unopened bags of cat and dog food (both wet and dry) and treats are gratefully accepted. Cat food is greatly needed. Social distancing will be observed, and we request visitors to ARF wear masks whether dropping off or picking up food.