by Debbie Tuma
We stretched out in the warm sunshine on the sands of Ballard's Beach, listening to the small ocean waves lap along the tide line. Finally, it was starting to feel like summer. It had been a cold and rainy spring, and we couldn't wait to hop the Viking Superstar Ferry from Montauk to Block Island, on the 10 am boat.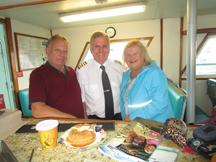 We had gotten up early this morning to catch the ferry and say "Hi" to Orla and her crew, owner Paul Forsberg, and Captain Jay Burke. Once on board we enjoyed breakfast prepared by
Debbie, in the galley. After only an hour and 15 minutes, we had arrived in the New Harbor.
We were coming to Block Island sooner than usual, in mid-June, so we could beat the summer crowds. Now, from our vantage point near the water, we could see some people hanging out at the Tiki Bar, and we could hear the sounds of the beach band playing outside Ballard's Restaurant. Earlier today, we shared some raw clams on their outside patio, and a delicious lunch of "Bomster Sea Scallops and Shrimp," with some watermelon lemonade.
This was a most convenient beach for us, since it was just down the hill from The Inn at Old Harbor, where we were staying. This three-story, Victorian inn is one of the most architecturally charming inns on the island, built in the 1882 and conveniently located in the heart of the downtown Main Street, across from the famous Statue of Rebecca. We always say hello to Gabrielle Long, who owns the inn with her family. We also see Gabrielle and her brother Kai Costanzo at their two "Kai Kai Sandals" shops located in Montauk.
Yesterday, we arrived at the Inn at Old Harbor and wandered around the halls admiring the several balconies facing the scenic old harbor, where the inn staff serves wine and cheese to their guests in the late afternoons. We also admired the lovely old-fashioned wallpapers in the halls and rooms, which are spacious and several have their own balconies, and private baths. In the mornings, they serve complimentary coffee and continental breakfast upstairs in the Common Room. We always feel so cozy and comfortable in this historic inn. Right next door is another Kai- Kai Sandal shop, and next to that is their Block Island Ice Cream store! Call 914-707-3367, or visit www.innatoldharbor.com
We decided to leave the beach and do some shopping at all the wonderful boutiques, like Mahoney's and Glass Onion. We walked over to Aldo's Mopeds, which is next door to Aldo's Italian Restaurant, bakery and ice cream shop. We visited our friend Leo Leone and his father, Leo Leone, Sr., whose family started their businesses decades ago on Block Island. Leo, Jr. or "Little Leo," as they call him, is a fun and funny guy who knows everyone on the island, and is a great source of information. Each time we come to the island, we rent cars from him, and this time we tried a cute, red, "Smart Car," which even fit our luggage. Aldo's has another car and moped location near the boat basin, and their van will pick you up when you get off the Viking Superstar in the New Harbor., near Champlin's Dock. Call them at either 401-466-5018 or 401-466-5811, and visit: www.aldosmopedsbi.com
We hopped in our Smart Car, and decided to check out another popular beach on Block Island, known as "Crescent Beach." The ocean waves were calm and inviting, and the water was a bit cold but refreshing. As we were there on a weekend, it was a bit more crowded, but during the week there are less people. Since Block Island is only about 3 by 7 miles, you can tour the whole beautiful island easily by car, Moped, or bicycle. Taxi tours are also available. It is worthwhile to see the two old lighthouses—the more remote North Light, and the Southeast Light, located at the scenic Mohegan Bluffs. There are also gorgeous, historic homes with wrap-around porches, and Victorian inns that a truly unique to Block Island.
One of these, the Atlantic Inn, we chose to check out for dinner, at their Restaurant 1879. We walked through the grand front porch, and almost gasped at the beauty of the sunset over scenic views of the open fields and harbor. This hotel is stately and elegant, with spectacular views all around. We met Lars Trodson, our host and also Editor of the Block Island Times. Our lovely waitress, Lily, served us a perfect meal of Smoked Caesar Salad, Seafood Cannelloni, and Roasted Rack of Lamb. We will surely be back!
After dinner, we checked out the Block Island Music Festival, which was going on from June 12-17, with numerous bands rotating every day after 5 pm at Captain Nick's. We heard the "Rivergods" with roots-rock music, and "Analog," with pop-rock style, and we loved the campy, fun lounge-style of Captain Nick's, a great place for nightlife.
The next day, after more beach time, we headed to a long-time favorite, "Dead Eye Dick's" for lunch on the sunny outdoor deck. Our waitress Abby brought us over their famous New England clam chowder, with haddock sandwiches and fries—such a great seafood lunch!!
We hated to go back, but Aldo's shuttled us back to the Viking Superstar Ferry to Montauk, which departs Block Island each day in July and August at 12 pm and 5 pm, and departs each day from Montauk at 10 am and 2 pm. It also goes round-trip from Montauk to Martha's Vineyard from August 12-14. For more information, call 631-668-5700 or visit www.vikingferry.com