Tons of baitfish are here off the point, down the beach on the south side, and in the sound! Just a matter of time before it really heats up.
When the weather cooperates the Fluke fishing has been pretty good so far. This spring has just been a relentless barrage of Nor'easters, rain and wind.
Only just now is the water temperature getting to where it has to be this time of year. We've had lots of small Striped Bass and short Fluke showing up as they do early in the season, which is a great sign for the future, but the main body of bigger fish are running behind this season. It's going to bust loose any day now, but for this season they're running about 2-3 weeks behind. Usually we are catching 8-15 pound Striped Bass by now, and the main body of fish are on their way from the reports we're getting from back west. Both Fluke and Striped Bass just can't resist all of the different varieties of baitfish that come around Montauk each year!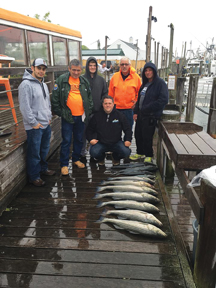 Fluke stocks are really on the upswing, lots of juvenile Fluke are all over the rips right now. As an example, we caught and released 28 undersized Fluke on a half day trip with only 4 anglers, and that was after we went porgy fishing for almost 2 hours out of a 5 hour trip!! Very good sign for sure.
Speaking of Porgy, they are here in droves! Down on the south side, the Elbow, Great eastern, under the light, Flats, almost everywhere and they are large. If it's fish tacos you like to eat, the porgy is the perfect ingredient. Yes, everyone complains about the bones, but all fish have bones. Take the time to cut the pin bones out before you cook them like you would for any other species, they're just smaller and it's a little more tedious. It's well worth it!!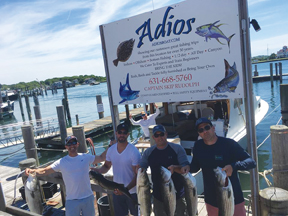 Good news on the Black Sea Bass front, NYDEC changed the opening for the tasty little critters to June 23rd from the 27th! Great news, and thank you NYDEC. The size limit is still 15 inches and you are allowed 3 fish per angler through August 31st. Then from September 1st through December 31st you are allowed 7 per angler at the same 15 inch size limit. Not the best case scenario, but better than nothing!!
Plenty of Shark action offshore and that's going to pick up as well if the huge schools of Bunker come our way again this season.
Be safe, be courteous, and have fun this 2018 season!!
Tight Lines, Captain Skip