Mary Frances McDonald Ecker loving mother of Edward V. Ecker, Jr., Cheryl Ecker Bloecker, and Catherine Ecker Flanagan passed on August 19, 2018 at the age of 89. In addition to being deeply loved by her children, their spouses, her grandchildren and great grandchildren, there is an entire community that loved her as well. Having personally touched so many lives, whether she, or we, knew it or not, Fran's reach spread like one of her beautiful quilts over all of Montauk- she will be missed.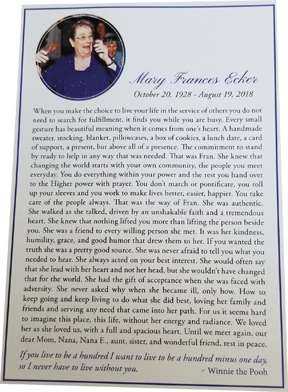 Mary Frances McDonald Ecker was born on October 20, 1928 at home on the beach in the Old Fishing Village of Montauk, now known as Navy Road. Her parents, Charles Leonard McDonald and Mary Jane Burke were originally from D'Escousse, Nova Scotia. She was the third of four children, growing up with three siblings, Eva McDonald Collins, Celina McDonald Seitz and Vinnie "Buddy" McDonald. Her family lost their home in the 1938 hurricane and moved to a Carl Fisher cottage in upper Shephard's Neck the day after the hurricane. Coincidentally, it is the house that Joe and Cheryl Ecker Bloecker live in on South Debusy Road.
The McDonald house was always full of love and life. Sunday school classes were held in the living room, the basement was used as a roller skate rink and the yard as the softball field. During Fran's teenage years, it was the home where the Montauk locals and Bonacker friends would be
feted to breakfasts in the middle of the night or early mornings before their trek back to Bonac.
Fran, as she was always known, graduated from Montauk Public School and East Hampton High School. Fran worked at the East Hampton High School as a school secretary upon graduating from high school and remained there until she married Edward V. Ecker, Sr. in April 1953. The following March she and Ed
welcomed their first child, Edward V. Ecker, Jr., followed by Cheryl Ecker Bloecker and Catherine Ecker Flanagan.
Fran was a stay-at-home Mom from 1954 until 1970 during which time she lovingly dedicated her time and energy to fulfilling every child's dreams of days at the beach or pool in the summer, sleigh-riding and ice-skating in the winter, Cub Scout Den Mother, books being read to us, songs sung to us, clothes sewed for us, winter sweaters and mittens all homemade for us, strawberry picking, John's Drive In, etc.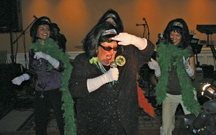 The Ecker Family was also very blessed to have been able to have shared their home with Fran's widowed first cousin Blanche McDonald Riley and her three children, Margie Riley Merod, John Riley and Barbara Riley Connors.
Supper time was always at 6:00 PM sharp seven nights a week where everyone shared a hot meal and a favorite story from their day. After supper the Ecker's always hosted the neighborhood kick ball games that were played by the Tuthill's, Joyce's, Darenberg's, Edelstein's, Prado's, Volk's and McDonald's.
In 1970 Fran began working at the Montauk School as a teacher's aide and worked there for 24 years loving every minute of it. She was well known for knitting Christmas stockings for all new faculty
members' babies. Also during her tenure at the Montauk School she and a fellow colleague Inez Fox saw the need for food assistance for families during the winter months when seasonal employment was not as readily available. So, in 1984 the Montauk Food Pantry became a reality. Fran has served as the Director for many years and stayed involved until her health issues became a top priority
Fran has always been very involved in her St. Theresa's Church Community, from being a choir member, Altar Society member, and Eucharistic minister. As well as in the Montauk Community Church Theater group where she sang and danced in many show.
She leaves behind three grandchildren, Kari Ecker Shea of Montauk, Karli Ecker Pena of La Mesa, CA, and Fallon Bloecker of Montauk, and six great-grandchildren Lili Pena, Jude Pena, Zelda Pena of La Mesa, CA and Maggie Shea, Ronan Shea and Oliver Shea of Montauk; all of
which she was very happy to talk about at any time.
Fran personified what original Montauk Community members have always been about…. showing compassion, being generous with your time, doing what must be done, but most of all, always being kind.
Fran was the Montauk Friends of Erin Grand Marshal in 2009, Montauk Chamber of Commerce Woman of the Year in 2002, Montauk Village Woman of the year, East Hampton Kiwanis Club
Woman of the Year, and East Hampton Rotary Woman of the Year in 2017. But of all her titles, awards, and accomplishments through the years, her favorite title was always "Mom".
A few personal memories about Fran:
"Fran made many of our clothes as we were growing up and as a gift before Eddie, Catherine and I left for college she gave us homemade quilts with swatches if all the different clothes she had made through the years. She did the same for all three granddaughters with patches she would have embroidered for their special events and interests. For example, for Fallon's she would have a baby and her date of birth,
a fish representing Joey, Joey's Dad and her own love of fishing, and a star representing my Dad who promised her he would always be waiting for her on the brightest star in the sky. The same way my Dad is remembered in our family as waiting for all of us on the brightest star in the sky, my Mom wanted to let us know she will be a part of every sunset.
Fran also made us three Ecker kids pay our own car insurance once we turned 16. I paid her religiously each month through college graduation. When I was ready to buy my own first car my Mom gave me back all the money I had given her through the years. She had quietly saved it and surprised me with a chunk of money that I was able to use to buy the car." – Cheryl Bloecker
When you see the large and giving heart of Montauk you are looking at long tradition cultivated by some very special people. None more so than Frances Ecker. A lifetime, just short of 90 years completed that was woven with humility, charity, and love. Love for her community, she was born in a house on Navy Road, and love for any person who could use a helping hand. To serve others is to understand what brings life richness and meaning, and no one lived these words more than Fran. She practiced what she preached and her impact on this community and beyond will live on long after this very sad farewell. Simple and small gestures of kindness along with large and lasting works of humanity, like the Montauk Food Pantry that she founded many many years ago are her legacy. She worked at the Montauk Public School and saw a need brewing that many didn't have the opportunity to see. She wanted to make a difference and she had a plan. She asked a friend to join her and today many people have been fed and will continue to feel the comfort of knowing that someone is there to catch them if they fall. That was the generous soul and spirit of Fran Ecker, that and more deeds of goodwill than I could possibly list. She was that example that helped inspire more people to simply reach out and solve a problem. And she did it with humility and grace. A person of great faith, she never wavered. She was a shining example of a Montauk local and all of the love she gave she received back from the community she loved. I write this today with tremendous pride and also with a broken heart that feels as though the world has stopped turning. She was a true Montauk icon and she was also my dear mother. Montauk will feel this loss and I know I will never stop missing her. May she rest in peace and serenity. – Catherine Flanagan
"Fran survived the Hurricane of '38 and the relocation of her home to Shepherd's Neck from Fort Pond Bay. She loved her sisters and brothers and their families and kept them close throughout her life. She walked side by side with a man she adored, often being content to stay in the shadow of his limelight. She came from a generation that believed it was her responsibility to guide the children of the community not just her own, being respected and loved by many of those children to this day. She took great care to maintain her garden, a rock garden in fact, perhaps reflecting the rocky coast of the land of her ancestors or more likely the inner strength she possessed. She was a woman of faith, unabashed to share her love of God with others or seek his assistance for others. She was an adept knitter, often having her knitting bag close at hand. A conversation with her often was interspersed with the clickity clack of her knitting needles. Her view of community, like so many others in Montauk went well beyond Webster's definition of "a group of people living in the same place" and included the sense of shared responsibility and caring for fellow Montaukers. When she saw a need, she acted. She was a humble woman who left an indelible mark on a community she loved. She will be missed!" – Ann Joyce