We left Star Island Sunday June 13th around 7:15am on Dave's 42 foot Henriques hard top express. On board were Dave, his sons Matt and Mike, and Mike's friend Ralph. We headed to an area that was alive three days earlier on the new moon. It had a large body of bluefish and porgies. We were hoping slot size striped bass had moved in. NYS recreational regulations allows one 28 to 35 inch striped bass per angler, may be taken from marine waters south of the George Washington Bridge from April 15th to December 15th. The bluefish were still there but the life wasn't what it had been three days earlier. We had live eels to drift and diamond jigs to work when we found the right area.
Dave took the boat closer in by the lighthouse and we scouted areas to the west. The incoming tide was working and it felt like the Stripers would be too. I caught a legal porgy and rigged it to an old school offshore set up with a red Penn Senator reel and a roller guide tipped rod. Every year big striped bass show up in numbers around the lighthouse on the full moon in late June early July. We were a little early with a June 24 full moon. Fish were being caught but not the numbers that would be caught in a few days. I stretched out the fluorocarbon leader so it was limp and my knots were sinched. I use three wingspan pulls of leader when I'm live baiting.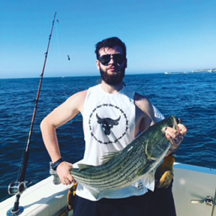 A dog on a short leash doesn't look right. I also put a light sinker on a sinker loop I tied to a 3-way swivel that the fluoro leader circle hooked porgy was tied to. It didn't take long on the first drift east of the radar and we were on. Mike was on the rod and handled the 37 inch bass like a champ. He never reeled against the drag, held the rod high with a slight bend and brought the fish in without stressing it too much. I quickly removed the circle hook handed the fish to Mike for release while a picture was taken. Mike released it head first and the fish took off when it hit the water. The best part of the catch was the lively release.
As I send this column in, the big bass are being caught in large numbers. Hopefully, they are all being handled and released with care. As a guide said to me in Key West years ago, "it's job security."