It's Not Just For The Sunsets
by Sue Giustino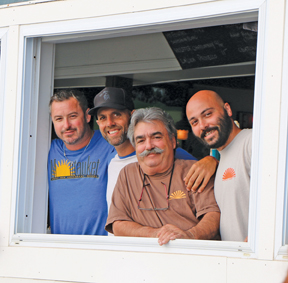 The sun sets every day, yet when we experience them, especially at a prime location, it leaves us in awe every time. Enjoying the suns evening majestic routine over a dinner with an island flare completes the whole experience of relax-enjoy-eat-drink- smile – that is The Montauket. Perched above Fort Pond Bay this iconic restaurant and bar, which has always been a local hidden treasure, is the place for great food, drink, live music and unbeatable spectacular Sunsets. Open 7 days for lunch and dinner, The Montauket offers al fresco dining with a view.
On a tranquil Thursday with a bit of fog filtering through the sun's rays over Ft. Pond Bay, and Jettykoon entertaining the pre-sunset crowd, we sat outside to take in the view with our dinner. Our friendly waitress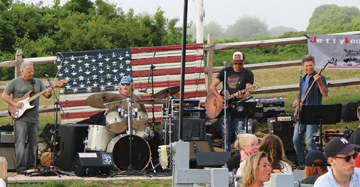 Veronica told us about the evening's specials while we sipped our cocktails. The full bar, which has a window to the outside area, is always welcoming with Steve, Frank, Allise or Puck ready to serve your favorite liquid refreshment, including some summertime frozen favorites.
For ten years Yolanda Thomas has been preparing island style dishes at the Montauket and each year she continues to change it up creatingnew and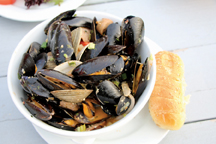 delicious meal options. It's perfect if you're looking for fresh fish, a burger, a varied selection of salads, wraps or a sandwich, chicken, ribs or a steak, or maybe just one of the many appetizers. There's also daily specials and a children's menu.
Debating between the Calamari, Butterfly Shrimp and the Homemade Beer Battered Scallop Fritters we went for the scallop fritters which we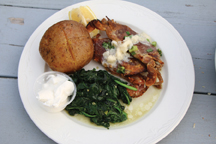 have never tried. They are nothing like any fritter I've ever eaten; a dark and crispy coating yet the tender scallop mixture is perfectly spiced and moist- with an abundance of scallops. Served with lemon and a sweet chili dipping sauce I highly recommend them. Another excellent choice was the Sautéed Mussels and Clams served with sausage in a savory broth of diced tomato, aromatic herbs and a touch of cream. There were only two of us eating so we didn't venture into the salads, but from a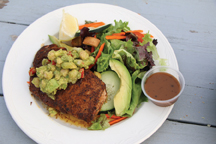 Tomato and Mozzarella, Cobb, Shrimp, and Asian Chicken to the Sesame Seared Tuna salad, they all sound delicious.
For dinner we went with the Sautéed Soft Shell Crabs topped with beurre blanc and served with sautéed spinach and a baked potato- although rice, a side salad or French Fries are also options. The crabs were prepared tender and crisp with the beurre blanc being a perfect accent to the light crab flavor. We also enjoyed, from the daily specials, the grilled Yellow Fin Tuna cooked to order and topped with a creamy avocado and chick pea salsa- a perfect pairing. I chose the side salad which was an excellent choice for this light tender fish. Other special options, included a Lobster Roll or Scallops- both which are delicious and I have enjoyed here before- and a Seafood Kabob.
It's hard to go wrong dining outside overlooking the beautiful Fort Pond Bay area, but enjoying a delicious meal makes it perfect. There are so many tasty options on the menu- Cajun Fish Tacos, Lobster, Shrimp, an assortment of fried, grilled and broiled fish, Roasted West Indian Chicken, Ribs, Steak, and a few pasta choices- something for everyone! Come as you are; from the beach, golf course, tennis courts, hiking trails or the boat. The Montauket is a fun casual spot to enjoy cocktails and a snack, or a good meal with friends and family- and of course stay for the Sunset!
88 Firestone Road, Montauk         631.668.5992