by Paul Monte
Bar Ilegal, an immersive pop-up tour of Café No Sé, Guatemala's famed watering hole, music hub, and birthplace of Ilegal
The food was great and the drinks were cold, but the vibe was sizzling HOT as the crew from Ilegal Mezcal took over the Hideaway Montauk (www.hideawaymontauk.com) on Saturday night! Master mixologists TinTin and Allie behind the bar crafted superb Mezcal cocktails such as the Hideaway Breeze and the Ilegal Watermelon Margarita while the kitchen crew dished out delicious authentic Mexican specialties to the crowd.
Gilbert Marquez and Matt Green of KLG PR and Illegal Mezcal created an exciting and interesting evening complete with real tattoos depicting the brand, by Daniel Cotte' of Sena Tattoo NYC (www.danielcotte.com) and music provided by the "one and only" type band, SUSU (www.sususupernatural.com).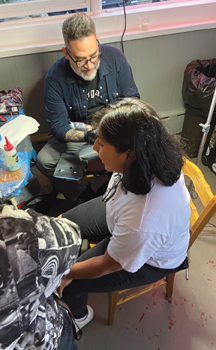 The energy level was high when Liza Colby and Kia Warren, lead singers of SUSU, took to the stage for what can only be described as an electrifying performance of song and dance that brought the crowd to its feet and never let them go. From that point on the crowd was in high gear enjoying the food, drinks and music while creating lasting memories of their visit to our very special Hamlet of Montauk.
Bar Ilegal, an immersive pop-up tour of Café No Sé, Guatemala's famed watering hole, music hub, and birthplace of Ilegal. Ilegal Mezcal is bringing curated drinks, live music, tattoo artists and everything you need to know about mezcal to one place. It is the ultimate Ilegal experience, and anyone (21+) is welcome to join to deepen their understanding of mezcal and the Ilegal lifestyle, and stay for the music and standout drinks.