by Evelyn J. Mocbeichel
There's a fascinating, whimsical world awaiting guests just a car or train ride away at the New York Botanical Gardens (NYBG) in the Bronx! The Holiday Train Show has become "a must-see" tradition where G-scale model trains hum alongside of more than 190 iconic replicas of New York landmarks."  The 30th annual show opened November 30 and runs through January 23, 2022, perfect for visitors on holiday outings or school recess. This amazing display of buildings all created from natural materials such as bark, twigs, seeds acorns and pine cones, are crafted by the creative team at Applied Imagination in Alexandria, Kentucky.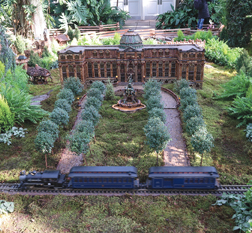 Featuring a miniature wonderland in the warmth of the Haupt Conservatory, the Holiday Train Show includes such famous New York landmarks as the Statue of Liberty, the Empire State Building, One World Trade Center, Rockefeller Center, Radio City Music Hall, and many other favorites. You'll see reproductions of famous buildings from all five boroughs and enhancements that include waterfalls, bridges, mountains and streams where the multitude of train lines pass both overhead and in between the building displays. A new piece included this year, a replica of the majestic LuEsther T. Mertz Library Building, along with the iconic Enid A. Haupt Conservatory. The exhibit building is lit up like walking through a glimmering jewel box and is a delight to guests of all ages! The Train show is so enchanting and magical one might expect a little gnome to pop out and wave hello to the visitors. With twinkling lights, the hum of trains going around the track and the contagious happiness of the holiday spirit, it is truly a wonderful seasonal excursion in the glow of the Enid A. Haupt Conservatory!   More than 25 G-scale model trains and trolleys hum along nearly a half-mile of track in the Holiday Train Show. American steam engines, streetcars from the late 1800s, and modern freight and passenger trains travel along overhead trestles, through tunnels, and across soaring bridges such as the Brooklyn Bridge and George Washington Bridge. Guests to the Train Show stroll through the Haupt Conservatory, which consists of 11 interconnected galleries that feature different habitats and plant specimens from around the globe as well as seasonal galleries where annual floral displays and special exhibitions are presented. While walking through the exhibit and warm interior of the palm forest and exotic plants, visitors will see model trains zipping in and out of the displays on nearly a half-mile of track. While any time of day is lovely for a tour, after dusk is the most enchanting to see the twinkling lights and glow of this miniature world that beckons both adults and children to its charm.
Extra Event: An Expanded NYBG GLOW Returns, and a new Combination Ticket is available in addition to the Holiday Train Show. Families and friends can start a new holiday tradition as day turns to night on select dates, exploring the Garden's festively illuminated landscape and enjoying music, dance, food, and more at NYBG GLOW, expanded for its second year. The outdoor 1.5-milecolor-and-light experience will take place from 5 to 10 p.m. on 25 nights and started November 24, 2021, and runs through Saturday, January 22, 2022. Visitors to NYBG GLOW will be able to round out their evening with an after-dark visit to the Holiday Train Show by purchasing a special combination ticket. It will be the perfect night out this holiday season. For more information and to purchase tickets, visit nybg.org The New York Botanical Garden is located at 2900 Southern Boulevard, Bronx, New York 10458. For more information, visit nybg.org