July 2022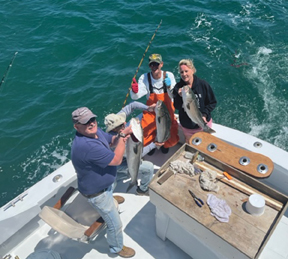 Best Spring Striped Bass fishing maybe ever! One day they were no where to be found, then poof, like magic they appeared with a vengeance!! Anglers have been getting action on just about everything. Diamond Jigs, Parachute Jigs, Single tubes, Umbrella rigs, even Surface popper plugs.
The best part is they came in all sizes. Usually the small juvenile Bass show up first, followed by the slot sized fish, then by July 4th the Cows arrive. Not this year, they decided to come all at once, it's wild! At the time this article is going to press the action is still full on with no slowing down in sight. Hopefully it will hold up for a while yet. Cooler temperatures and an abundance of all kinds of baitfish is keeping them around. They're spitting up Butterfish, Sand eels, Hognosed anchovies, Squid, and the best part of all this action is that the Striped Bass & Bluefish are hanging out on numerous spots.
Pollack rip, Elbow, Slot, Great eastern, Porgy lump, Jones' and more. Those anglers looking for the cocktail Blues are finding them under the light and down on the South side. Porgy have showed up in good numbers as well. South side, under the light, Elbow, Great eastern, Porgy lump. The Porgy in some of the deeper spots are absolutely gigantic. Best fish in the world to get the youngins' hooked on fishing. They bite hard, pull hard all the way up, and when you're on a nice pile of them it's instant gratification for the young anglers keeping them busy and not bored. That's a good thing!! LOL
Red hot Striped Bass and Bluefish action has eased the disappointment of the slow starting Fluke season this year. It's looking like the Fluke are going to be late bloomers. Once again the conditions that have fired up the Bass and Blues seem to be non conducive for the Fluke so far. It's been the coldest June in quite some time. There has been way too many juvenile Fluke in the rips the past few years for them not to show up. Hopefully warmer conditions will wake them up. There is certainly enough bait around that the Fluke prefer, I believe it's just a matter of time.
As a reminder, Black Sea Bass opened on June 23rd and the bag limit is 3 fish per angler. NYSDEC still showing 15 inches size limit, keep an eye out for a last minute change.
Get out there and have some fun, it's a banner season so far, for the most part.
~ Tight Lines, Captain Skip
www.adiosboat.com                www.facebook.com/adios.charters