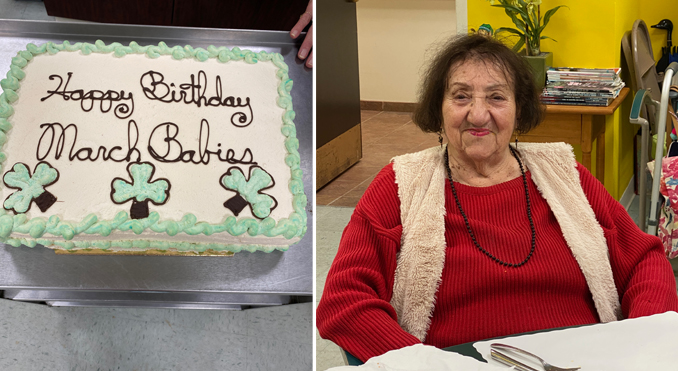 by Patria Baradi Pacis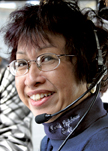 Great news! Now that Covid cases are down and there are fewer deaths reported, the mask mandates have been dropped as of April 18. Nothing can affect this wonderful feeling of freedom I feel for being able to breathe better, again, without having to wear a mask. Of course, this reporter will still carry one in my pocket. Let's pray that the young at hearts will feel safe to go out again and come to the Senior Nutrition Center to eat the delicious and well balanced meal, served in fine china and silverware, by friendly, volunteers, in a bright and cheerful dining room.
March birthday celebrant, was Frances Carroll, whom I worked with at the Montauk Point Lighthouse years ago. Frances was the cashier, and I was a tour guide and her back up when she went to lunch. Now that the town has come alive again, after the successful and well attended St. Patrick's parade in March, Executive Director, Therese Jarmain made sure that Frances' birthday cake was made, locally, by Billy Bertha from Montauk's Kimmy Cakes, located off Second House Road (631.903.5817). Many seniors knew Billy when he worked at Gurney's Inn Sweet Counter, years ago.
If you are 60 and over, please come to the Center. Let's make a deal you can't refuse. If you bring a friend twice in a row, then your third lunch will be FREE. The Center is open from 11:00am until 2:00pm If you choose not to eat, you can attend chair yoga, on Mondays and Fridays with Ms. Tsuyumi at 10:45am or you can take meditation and improve your mind, body and balance, on Tuesdays with Nurse Margaret, play Mahjong with your friends on Wednesdays, Bingo on Thursdays or just play cards, dominoes, read from our library of books and magazines, or finish puzzles together at 1:00pm.
For more info and transportation, kindly call Ms. Jarmain at 631.668.1023 or e-mail her at mtksenctr@gmail.com. Make sure to reserve your lunch 24hrs in advance so we can save a place setting for you.
Happy Birthday Frances and Happy Mother's Day to all moms.