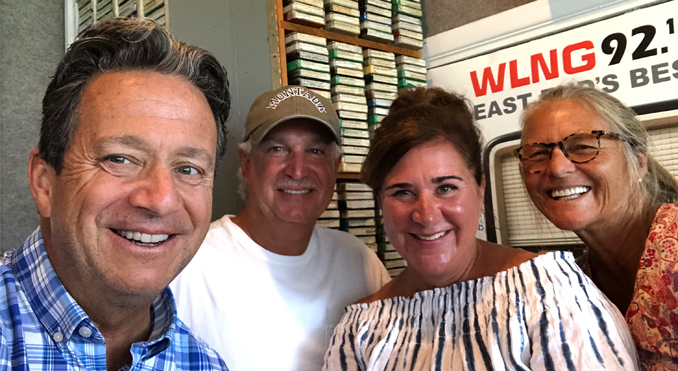 by Debbie Tuma
What's better as a "summer read" than a good love story? And in these trying times, especially, we could all use some uplifting inspiration.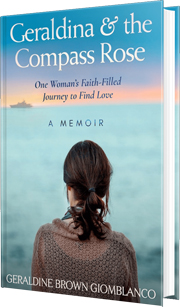 Geraldine Brown Giomblanco has published her first memoir, which is set in Montauk and the Hamptons, and is now on its way to becoming a feature length film. Her award-winning book, "Geraldina & The Compass Rose," tells her own personal 30-year journey to find not just any love, but true love. Giomblanco, a former corporate executive, motivational speaker, and certified life coach, held onto hope and faith inspired by her Italian grand-mother, Rosaria Gentile. This carried Geraldine through many wrong relationships, until she finally met her husband, at the age of 49, on his boat in Montauk.
Along the way, there were many miraculous signs given to her by her grandmother, and also by a psychic, a gigolo, guardian angels and saints, a U.S. President, and a string of unsuitable boyfriends. Geraldine, of Westchester, continues to rise up the corporate ladder, traveling around the country marketing shopping malls and planning major events. She has offers from men along the way, but she refuses to settle. Deep down she feels that her life has a plan for something bigger and better.
One day, in August of 2015, she gets fixed up on a blind date by a friend, and she meets Mark Giomblanco of CT in Montauk, where he has been summering on his boat since 1978. They have an instant connection, which "feels right" to them. They begin dating all over Montauk at places like Camp Hero, the Montauk Lighthouse, Inlet Seafood Restaurant, Bird on the Roof, Salivar's, and others. They also took their boat to Sag Harbor and around the Hamptons. A year later they get married.
The happy couple is now living on their boat, aptly named "Geraldina," and docked in Montauk for the long summer season. Recently, "Geraldina & The Compass Rose," published by GBG Books, won six awards. These include the Eric Hoffer First Horizon Award for superior work by a debut author. Her memoir was also a winner of the Romance category, and in the Next Generation Indie Awards it was a finalist for romance, relationships and inspirational books. Geraldine is now working on a sequel to this book.
She and Mark, who helps her with marketing, are also working to make this compelling love story into a movie, with Rob Simmons of JARS Media, (PGA) award-winning producer of over 60 feature films including "Wild Oats," "10,000 Saints," and "Human Capital." They are also working with (DGA) director, writer, producer, Ante Novakovic, whose films include "American Fright Fest," and "The Fix." Mark and Geraldine are also collaborating with actress and director Diane Cossa, known for "Wherefore Art Thou," and "Law & Order," and with David Platt, who directed series of "Law & Order Special Victims Unit," "The Good Wife," and "The Wire."
They will be shooting around Montauk and the Hamptons, later this year. "We are very excited to be working with such a talented and professional movie crew," said Geraldine Brown Giomblanco. "We have been meeting with them regularly and have great things planned."
Word of this upcoming movie got out, and Geraldine and Mark have been busy doing interviews with the local media. Recently, they were guests on "Lunch on the Deck" talk show at WLNG 92.1FM Radio, with Bill Evans and Jessica Ambrose, in Sag Harbor. On the show, Geraldine talked about how she wrote a list of 50 things she wanted in a man. Bill Evans called the book "a message from the heart."
Geraldine has given book talks around Westchester and the Connecticut shore, including at RJ Julia Booksellers in Madison, CT, which is affiliated with BookHampton. Now with the current Covid restrictions, she is working with local libraries around Montauk and the Hamptons to have Zoom talks, to be announced.
Her book is available on Amazon, Kobo, Canio's Books, and at other local bookstores. You can find out more about this inspiring summer read at Geraldine's website, www.gbgbooks.com.
Geraldine Brown Giomblanco will be giving a Zoom Talk at the East Hampton Library on Wednesday, August 19, from 6 to 7 pm. Register at http://www.easthamptonlibrary.com or by calling 631-324-0222.