Celebrating 40 years of Pushcart Publishing, WordTheatre: Giving Voice to Great Writing, returned to Guild Hall in East Hampton on Saturday evening July 18th, with a star‐studded cast to honor The Pushcart Prize: Best of the Small Presses. The event Celebrated 40 years of brilliant writing with per‐ formances of the country's finest short stories brought to life by renowned actors including Amber Tamblyn, Ari Graynor, Ben Schwartz, Carla Gugino, Christopher McDonald, Zack Gre‐ nier, Sarah Wynter, and Vincent Piazza. They performed eight readings taken from the 40 volumes of Pushcart Prize; bringing to life the words of the authors and captivating the audience so that we became personally involved in the evolving, emotionally rich short stories and poems.
Some of the authors were in attendance and available to speak with prior to, and after, the performances. The authors who performed works included Peter Orner ‐ Melba Kuperschmid Returns, Andre Dubus III ‐ Tracks & Ties, and Richard Bausch ‐ Map Reading. The other honored authors were Pamela Painter, Matthew Vollmer, Peter Orner, David Means and Siv Cedering.. 'Giving Voice to Great Writing' indeed, each work was given life by the voice and skill of the actors' interpretation of the piece ‐ an experience that reached the literary soul of the mesmerized audience. Our host for the evening, Cedering Fox of WorldTheatre, did an exceptional job; elegantly ending the evening honoring her deceased mother, Siv Cedering, by having Amber Tamblyn read her Pushcart poem, UKIYO‐E.
The actors who donate their time for this benefit obviously enjoy and respect this per‐ formance genre, as well as mingling with the other authors and the general public who came to experience the art form. It was such an enriching, lovely evening of celebration and sharing of creative, captivating stories that I'll be sure to attend again next year!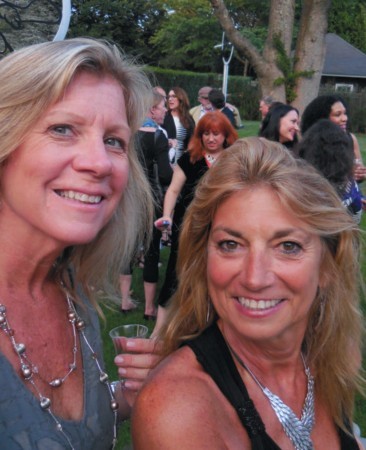 Pushcart Press is devoted to writers, small presses and non‐commercial publishing. Pushcart Press was founded by Bill Henderson from a studio apartment in Yonkers, New York in 1972. In 1976, Henderson and a group of Founding Editors that included Paul Bowles, Ralph Ellison, Joyce Carol Oates and Reynolds Price, started the Pushcart Prize anthology to recognize and celebrate the best work in the rapidly expanding inde‐ pendent publishing movement. Through the years since, the Prize has honored the art of thousands of writers and hundreds of presses. Each edition features reprints of work by about sixty authors from dozens of presses as selected from nominations by small press editors and Pushcart's staff of distinguished Contributing Editors.
Pushcart's office is an 8'X8' backyard shack on Long Island, New York. Pushcart has published over sixty titles, distributed by W.W. Norton & Co., and has been recognized as among the most influential publishers in American history by Publishers Weekly. Pushcart won the National Book Critics Circle Lifetime Achievement Award (2006), The Poets & Writers/Barnes & Noble Writers for Writers Prize (2006), and Publishers Weekly's Carey Thomas Prize for publisher of the year (1979).

For additional information on either group, or to purchase a book go to:
www.pushcartprize.com www.guildhall.org www.wordtheatre.com