by Debbie Tuma – Photos by Debbie Tuma & Mary Delaney
While many East Enders are heading down south to get out of the cold, there are still many avid skiers who can't wait to get to the mountains of New England and upstate New York. Since Vermont has some of the best skiing, with numerous well-known resorts around the state, you might want to consider a unique and charming inn near several of them.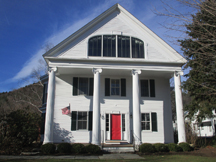 If you also love the old-world charm of Vermont's small towns, then the Four Columns Inn, in Newfane, Vermont, is for you. It is located just outside the lovely city of Brattleboro, and the closest ski areas are Stratton, Bromley, and Mount Snow. The tiny village of Newfane has a fascinating history, as all the major buildings, including the courthouse and the church, were moved there to form a village square.
Dating back to the 1800's, this romantic hotel and inn inn has 15 spacious, yet cozy rooms filled with antiques, wood-hewn floors, king
and queen beds, jacuzzi and deep soaking tubs and walk-in showers, bookshelves with books, and stunning mountain views. They also have free WiFi, and a beautiful cottage on premises, that sleeps nine people, and is great for families and ski groups.
Just a short walk away is the Artisan Restaurant, where you can dine on fresh-cut meats and fresh-caught fish, farm-to-table produce, and home baked bread and desserts. In keeping with the local flavor, the walls are covered with artwork of all kinds by local artists, from wood sculptures to paintings and pottery. There are amazing architectural wood constructed barns by local artist Nancy Burgess. This restaurant has a big fireplace and hearth, and its rustic, wooden tables invite you to sit back and relax in the soft glow of evening.
Next door is The Tavern, a rustic, fun bar and gathering place for guests and local people to dine, hear live music and share stories. There are small tables and an area for different local bands that play on Wednesday nights. My friend Mary and I stopped by on our first night there, to try their burger and beer special, for only $15. We couldn't believe the size of their burgers, and also the size of their homemade fries, served standing up in a cup. This meal was truly delicious, and hit the spot, on this cold winter night. We sat at a table near the band, "Silverback Swing," which played lively music on the fiddle, banjo, guitar, and other string instruments, from 5:30 p.m. to 8:30 p.m.
After dinner, we met the Four Columns' Chef de Cuisine, Erin Bevan, who came over to our table. She grew up on a small family farm, and understands the importance of using fresh, home-grown products.
"The Four Columns Inn is one of the first farm to table restaurants in the country," she explained. "Our mission is to stay close to the land and its farmers, and to support our local community."
Although Bevan learned cooking "from the ground up," she later worked with award-winning chefs like James Beard, and she also worked at some Italian restaurants, where she learned to make the fine selection of homemade pastas, such as ravioli and tagliatelle, that she has on the menu. Thursday is Pasta Night and includes a glass of wine, for only $20 for dinner. Bevan also bakes her own bread and pastries at the Four Columns Inn and Artisan Restaurant, where she also works with Executive Chef Frederick Kieffer.
"Our Saturday and Sunday brunch here is incredible," she said. "We get the eggs from our own chickens, and we have a great selection of French Toast, omelettes, and more, for only $17, which includes a Bloody Mary, Mimosa or draft beer."
She explained that the Four Columns Inn was started in the 1960's by Renee Chardain, who had trout ponds, pheasants and a vegetable garden, which started the idea of using fresh vegetables. Today, this inn also has a garden and outdoor pool in summer, hiking trails, and lawn games, such as horse shoes and Bocce ball. On the 138-acre property, there is also a small spa, where massages are available. The Four Columns Inn is open year-round, except for a few weeks in April, during Vermont's "mud season."
Nicholas Squires is their new General Manager, who hails from England, where his parents had a hotel in Cornwall.
"I grew up cooking in the kitchen and wanted to be a chef, but then I took a manager's course and got a degree in hospitality and management," he said. Squires worked at several hotels and inns, including the White Barn Inn in Kennebunkport, Maine, before coming to the Four Columns. "I'm a people person, and I enjoy meeting the people who come to The Four Columns from all over," he said. He pointed to some photos on the wall of the restaurant lobby, of such celebrities as Mick Jagger, Michael Douglas, Sting, Nicole Kidman and Tom Cruise, who have stayed here over the years.
The Four Columns Inn is owned by Charles Mallory, who is passionate about historic preservation, art, and design. He renovated the Four Columns Inn in 2015, collects antique cars, and owns boutique style hotels and inns in Connecticut, Texas, and elsewhere. His corporation, Greenwich Hospitality Group, has the Delamar Southport and the Delamar Greenwich hotels, and has recently opened the new Delamar West Hartford Hotel. To find out more, visit www.GreenwichHospitality.com
The Four Columns Inn has "Ski and Stay" packages available, and is located at 21 West Street in Newfane, VT. Call 802-365-7713, or visit: http://fourcolumnsvt.com/