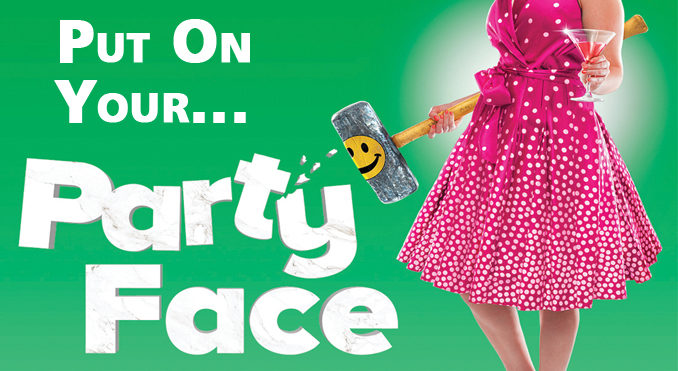 A Preview by Sue Giustino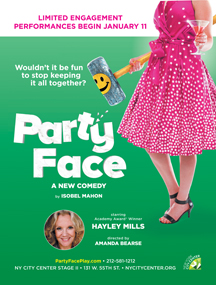 "Put on your Party Face!" How many times has one thought it, heard it whispered, or even mumbled it? Well now it's time to see it! PARTY FACE starring Hayley Mills, written by Isobel Mahon and directed by Amanda Bearse is opening off Broadway on January 11, 2018 – Stage II at City Center.
Direct from Ireland where it continues to receive standing ovations in sold-out theatres PARTY FACE, written by the wickedly brilliant Irish playwright Isobel Mahon, is coming to City Center. After reading reviews, I'm looking forward to seeing this hilariously honest play about the lengths we go to convince people we've got it all together—and the love and acceptance we find once we allow the truth to expose our imperfectly perfect selves.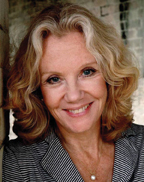 Hailey Mills is the winner of numerous awards including an Academy Award, Golden Globe, and BAFTA Award. She has been seen in a variety of roles over the course of a sixty-year career in film, television, and theatre. My favorite was her dual roles as "Susan" and "Sharon" in The Parent Trap (Golden Globe nomination); I remember watching it over and over with my kids when they were little.
She's best known for her performances in Disney's Pollyanna (Academy Award, Golden Globe Award, BAFTA nomination), as well as numerous other films and television shows. Mills has also appeared in a variety of plays and musicals in New York and the West End. Among her theatre credits are THE KING & I, DIAL 'M' FOR MURDER, FALLEN ANGELS, REBECCA, LADIES IN LAVENDER, PRIDE AND PREJUDICE, and Noël Coward's SUITE IN TWO KEYS, for which she received a Theatre World Award.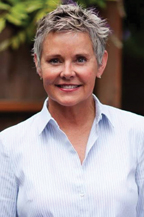 Amanda Bearse has enjoyed over thirty years in the entertainment industry. Born and raised in central Florida, Amanda moved to New York to study acting at The Neighborhood Playhouse under Sanford Meisner. Upon graduation, she began her acting career on "All My Children" for a role that was written for and named after her. Amanda left the daytime drama after two years and moved to Los Angeles to pursue other acting opportunities. Early on, Amanda was cast in the cult horror film "Fright Night" opposite Chris Sarandon and Roddy McDowall. Following that, another cult classic came her way in the role of Marcy D'Arcy on the Fox sitcom, "Married…With Children".
Twenty-five years and over a hundred sitcom episodes later, including shows such as "Dharma & Greg", "Reba", "George Lopez", and "Mad TV". Amanda remains behind the camera directing and producing, most recently the web series, "Skirtchasers" starring Barry Bostwick and Meredith Baxter. Theatrically, Amanda has directed Beth Henley's "Crimes of the Heart", Horton Foote's "Blind Date", and new works such as "Meet & Greet", among others.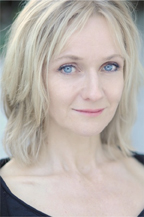 Isobel Mahon is a philosophy graduate of Trinity College Dublin. Isobel began her career in her native Ireland as an actress winning Best Newcomer to the Irish Theatre for Semi-Private at the Gate theatre, Dublin. She went on to work steadily in TV and theatre, including the character Michelle in the RTE series GLENROE for 16 years. Finally succumbing to a lifelong ambition to write, her first stage play So Long, Sleeping Beauty was first produced at Bewley's Theatre Dublin in 2003, then for RTE, for BBC Radio 4, Oran Mor Theatre Glasgow, Gay Pride, Canterbury and for Theatre of Chester, Mass. US (directed by Vincent Dowling).
Other plays include, The Rules, Billy The Boat Loves Angelina (with Gina Costigan) at the New Theatre and Box of Frogs, a musical/comedy revue about depression. Isobel has written for the RTE soap Fair City for four years and appears regularly on the TV3 panel show, Elaine. She is currently working on a horror film script, Bogman.
The Irish Production of PARTY FACE has just completed a successful national tour under the title BOOM? as a JAN WARNER PRODUCTION.
So get ready, because….You're invited to a party that's full of surprises. Watch as careful plans are upended when a young woman's mother brings her own food to her daughter's party—and also the "right" person to be her daughter's new best friend. They put on their "party faces" and hope for the best, but when facades crack, secrets spill. Tears sprinkle and laughter roars as their revelry leads to revelations. For tickets and more information go to: https://www.partyfaceplay.com/