by Sue Giustino
Good news! New York Prime Beef is now offering extended home delivery options – included are the Family Value Pack, the Mixed Grill Value Pack, Steakhouse Value Pack, and the NYPB Elite Value Pack. Each of these packs offers a variety of beef cuts, chicken, burgers, and/or pork chops.
While staying home and cooking many meals together, we enjoyed the variety in the Steakhouse Value Pack. The combination of USDA Choice steaks is: 6 – 10oz. Boneless NY Strip Steaks, 6 – 12oz. Boneless Ribeye Steaks, and 6 – 6oz. Filet Mignon Steaks.
With just a bit of flavored salt- any of your favorite works- these steaks on a hot grill for about 5min on each side and then on indirect heat to desired temperature results in a tender, mouthwatering, flavorful meal. Each of the steaks was so tasty- like eating at a fancy steakhouse. Paired with your favorite sides and a bottle of wine, it's a complete dining experience.
Another pack, the Mixed Grill Value Pack was enjoyed by our Editor Stefan. This one includes: 4 – 10oz. USDA Choice Boneless NY Strip Steaks, 4 – 12oz. USDA Choice Boneless Ribeye Steaks, 8 – 8oz. Special Blend Brisket Burgers, 4 – 12oz. Thick Cut Duroc Pork Chops, and 6 – 12oz. Boneless Skinless Chicken Breast. (Editor's note: Last night I broiled two of the NY Strip Steaks. Wow! 5 minutes on each side and what a great meal! I never thought I would be happy with mail order meat. After all, how do you pick and choose? Well, they do it for you and do a great job! I've never seen meat like this anywhere else…and surprisingly affordable! Considering two people going out to a steakhouse for dinner you're spending $100 without a tip. It's actually a bargain! And you don't need to change out of your sweatpants to enjoy a delectable meal!)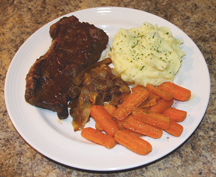 The orders come in a temperature controlled package, vacuum packed and ready to grill and/or frozen for future use. These steaks are Dry-aged for 28 days. They offer a wide array of steaks dry aged to perfection, then carved by an expert butcher to provide their customers and, your family and guest with the best steak they've ever had!
"New York Prime Beef is home to a newly constructed, state of the art dry aging facility. Under carefully monitored temperature and humidity our steaks are dry aged for 28 days before being hand selected at the peak of flavor and tenderness. It may take time and painstaking attention, but we believe that the results of the aging process merit the extra effort and expense."
In addition to the Prime Steak options [numerous and all listed on web site], other choices include chicken, pork, lamb, short ribs, brisket, kielbasa, roasts, and a variety of beef burgers including Wagyu.
For complete options, ordering-delivery, and cooking tips and videos see https://www.newyorkprimebeef.com/, or call 1-800-STEAK-NY.
I've included a recipe for grilled eggplant which can be used for any vegetable you enjoy grilled [minus the salt soak]- zucchini, peppers, mushrooms… In addition, the Roasted Eggplant and Quinoa Salad is another healthy dish that compliments the steak. Again additional vegetables can be added/substituted to customize to your taste.
Grilled Eggplant
Slice one or two eggplants 1⁄4 -1⁄2"
Sprinkle with salt and let sit for
about 10 min.
Wipe off salt and accumulated water
In a bowl mix ¼ cup olive oil garlic, parsley, oregano, salt and pepper and ½ C Brianna's lemon tarragon dressing
Brush onto eggplant and grill to desired doneness.
Roasted Eggplant and Quinoa Salad
Yields: 6 servings
1 large eggplant, cut into bite sized pieces
1 can quartered Artichoke hearts in water, drained and rinsed
1/3 cup extra-virgin olive oil
2 tablespoons apple cider vinegar
1 tablespoon honey
1 teaspoon paprika
1/2 teaspoon oregano
Juice of 1 lemon
2 cloves garlic, minced
1 tablespoon lite soy sauce, optional Tamari
1/2 cup parsley leaves, roughly chopped or dried
1/2 cup mint leaves, chopped or dried
1/4 cup crumbled feta cheese low fat
1/4 cup finely chopped scallions
2 cups cooked quinoa
1. Preheat oven to 400 degrees. Toss the eggplant with a teaspoon of salt in a bowl. Allow to sit for 10 minutes.
2. Combine the olive oil, vinegar, honey, paprika, oregano, lemon juice, garlic, and soy sauce in a bowl and add the eggplant and artichokes. Stir until well coated. Spread on a parchment lined sheet pan and roast until soft and lightly caramelized, about 45 minutes, stirring once or twice.
3. When the eggplant is done, allow to cool slightly and toss with the remaining ingredients. Mix well and serve.
Adapted from https://skinnyms.com/warm-roasted-eggplant-and-guinoa-salad/