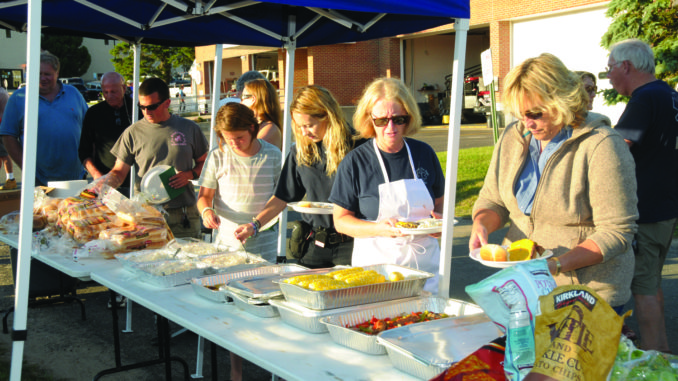 Photos by Richard Lewin Professional Photography
Welcome to this month's edition of the Montauk Fire Department Corner. I hope everyone had a safe and fun Fourth of July weekend, and that you are enjoying this beautiful summer we are having in Montauk.
I want to take this opportunity to congratulate Fireman Kevin Reilly and his wife Peggy on the birth of their new granddaughter. Julia Margaret Olson was born on July 11th to Kevin and Peggy's daughter Shannon, and their son in law James Olson. I am happy to report that mother and baby are home and doing great. CONGRATULATIONS!
I would also like to congratulate five new Emergency Medical Service Candidates, Nick Braunreuther, Chris Conway, London Rosiere, Emerald Turnbull and Helen Turnbull. On behalf of myself, and the officers, men and women of the Montauk Fire Department, I want to welcome you all on board and to wish you the best of luck in your upcoming training. I am confident that at this time next year you will be fully operational functioning EMT's and will be an integral part of our MFD family. Thanks again for volunteering and assisting the citizens and visitors of our community.
We at the Montauk Fire Department have been having a busy summer. Our calls for service for both fire related, and ambulance calls are higher than last year at this time. I want to thank the men and women of the department who have really stepped up as our work load has increased. I would also like to ask the public to help us when they can, by being vigilant when driving, and pulling safely to the shoulder of the road when you hear sirens coming in your direction or see emergency vehicles responding to calls. This would also include fire personnel and ambulance personnel responding in their personal vehicles. These vehicles can be identified by the blue light that is usually displayed on the vehicles dashboard.
Another safety tip for the summer: be careful of your alcohol intake while in the hot sun. As I'm sure you know, the consumption of alcohol causes dehydration which is enhanced while being in the sun. This has caused several people this summer to take an unwanted trip to Southampton Hospital, which would have been unnecessary if a little caution had been used. Also, please be careful, when extinguishing a beach fire, to make sure that the coals are properly doused with water and are not left to burn anybody. Following a few common sense rules makes us all safer.
Lastly, I would like to share with you some photos from our Montauk Fire Department BBQ which was held at the end of June. It's a tradition that has been part of our Department for many years and it's always fun to get the families together for food and fun. Please enjoy the accompanying photos taken by MFD Honorary Fire Chief Rich Lewin.
Thanks for reading this month's Montauk Fire Department Corner. I hope you have an enjoyable and safe rest of the summer. Until next time,
~ Vincent Franzone, Chief
Montauk Fire Department