April 2021
Photos by Richard Lewin Professional Photography (soniboy@aol.com)
Hello, and welcome to this month's edition of the Montauk Fire Department Corner. I hope everyone had a safe and happy Easter and Passover. I am sure we are all excited about the warm weather we have been experiencing recently and are looking forward to even warmer days as summer approaches. I would like to remind you, if you have recently returned to Montauk after being away for a while, to be sure to check the smoke detectors and fire extinguishers in your home to insure that they are up and running for the season.
I would once again like to congratulate Fireman Charlie Morici, a 58-year member of the Montauk Fire Department, who was last year's Grand Marshal of the Montauk Friends of Erin Saint Patrick's Day parade, and who, due to the COVID-19 virus, was this year's Grand Marshal as well. It is the first time in history that the parade's Grand Marshal held the title for two years. For his part Charlie stayed strong and did not waiver during his tenure. Unfortunately, there was no traditional parade permitted again this year, but the Friends of Erin had a small gathering for Charlie, his family, and friends on Saint Patrick's Day where he had the opportunity to wear his Grand Marshal regalia, to enjoy the Amityville Pipe band, and to enjoy the day with his loved ones. I would like to congratulate the Montauk Friends of Erin for selecting a man of Charlie's caliber to represent their club for the last two years. Please enjoy the photographs provided by Honorary Chief Richard Lewin.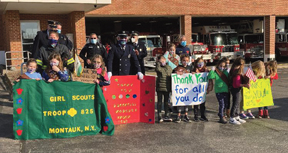 Lastly, on behalf of the members of the Montauk Fire Department I would like to thank the Montauk Girl Scout/Brownie troop 825 for their generous donation of Girl Scout cookies to the Montauk Fire Department members and EMS personnel. On March 11th, the girls of troop 825 and their parents held a procession starting at the Montauk Public School, past the Montauk IGA, the Montauk Medical Center, and finally ending at the Montauk Fire House.
Montauk's own Nancy Atlas entertained from the lead vehicle to the delight of all. The purpose of this procession was to donate Girl Scout cookies to people who were on the "front lines" during the past year. At the fire house, the girls presented girl scout cookies to the fire/EMS personnel, to members of the East Hampton Town Police who attended, and to members of East Hampton Ocean Rescue. Troop leaders Jessie Vickers and Judith O'Brien should be congratulated for putting this program together. It is always great to see our young people participating in positive civic activities for the betterment of the community we love, Montauk.
That is it for this month's Montauk Fire Department Corner. See you next month with more news.
~ Mitchell Valcich, Chief, Montauk Fire Department
https://www.montaukfiredistrict.org/