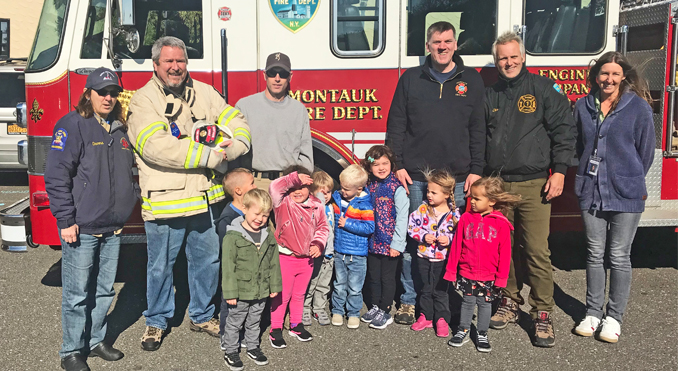 Photos by Richard Lewin Professional Photography (soniboy@aol.com)
Happy Holidays and welcome to this month's edition of Montauk Fire Department Corner. I hope everyone had a safe and pleasant Thanksgiving, and I'm sure you're all gearing up for the holiday season and the New Year.
As part of the Montauk Fire Department's efforts to help the less fortunate folks during this holiday season, we have placed a big red donation box for toys on the village green. If you can, please see your way clear to donate a new toy for a boy and/or girl in Montauk for this Christmas. If you can, please deposit new toys (not gift wrapped, please) in the donation box on the village green. I'd like to thank Firemen Denis O'Reilly and Joe Lenahan for spearheading this effort.
The Montauk Fire Department along with our Co-Sponsors, the Montauk Lions Club, held the annual Montauk Senior Citizens Holiday Dinner on Sunday, December 8th at the Montauk Fire House. The doors opened at noon, and dinner was served at 1 pm. As always there was entertainment, great food and drink, and Santa made a special appearance. This was a great event, and we are always very proud to be part of it. I want to thank all the fire department personnel, Ladies Auxiliary, Lions, and the many volunteers of all ages who helped put this event on.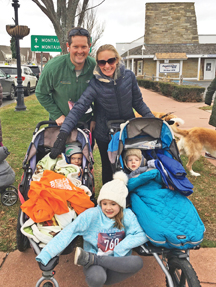 On Wednesday, November 11th members of the Montauk Fire Department spent the morning at the Montauk Public School and the Montauk Playhouse pre-school, teaching the kids about fire prevention. This is always a great event, and I am always pleased by the enthusiasm of the children, the teachers and Mr. Perna.
On Thanksgiving morning members of the Montauk Fire Department's Fire Police Company No. 6 assisted with traffic control for the annual Montauk Turkey Trot Run for Fun. There were over 600 runners who braved the icy cold winds this year. I understand that this is a record for this event and we were happy to assist.
We also assisted on Saturday, November 29th with the lighting of the Montauk Lighthouse, which has become an annual Montauk tradition. On behalf of the Department, I'd like to congratulate the Forsberg family who were honored this year.
That's all for this month's edition. I hope everyone has a safe and very happy holiday season.
~ David Ryan, Chief, Montauk Fire Department