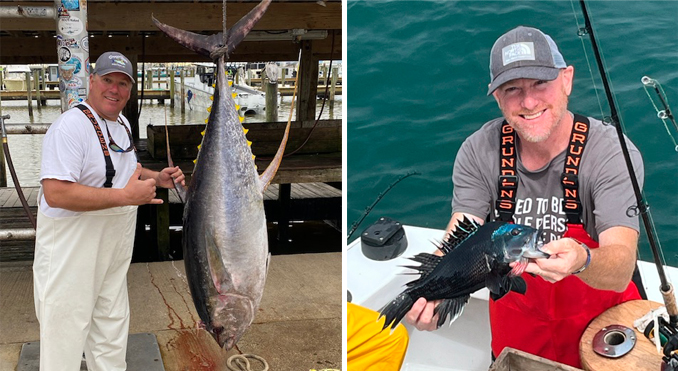 The Fluke finally decided to join the party! Action picked up at just about all the spots. The southside & down the beach was very active with some nice sized Fluke coming over the rails! North bar, & Treasure holes were also holding fish. Even with the swells from Hurricane Lee didn't deter the flatties from biting. Thankfully Lee passed us by and soon the hordes of baitfish will start coming through on their annual migration, and along with them will be the Fluke, Striped Bass, Bluefish, False Albacore, and who knows what else! Speaking of which, the False Albacore are here already and provide great light tackle action, especially on Fly Rod Tackle. Just look for the fish busting on the surface under the birds, that's where you'll find the action. Fluke season is open until October 9th this season. 4 Fluke per person at 18.5 inches.
Bottom fishing for Porgy (Scup) and Black Sea Bass continue to be excellent. From the Elbow all the way out to the Porgy lump you can consistently pick way at the Scup. The Black Sea Bass are also found in the same area but at this time of year the keepers have been picked through already. Outer Frisby, Cartwright, 20 minutes east, SW Ledge, and basically any good rockpile that hasn't been "hit" already will be holding fish.
Striped Bass action has been fairly steady all season, after the water warmed up they moved over by Block Island, but soon they will be returning to the Point. Keep in mind, if fishing for Stripers by Block Island you must be within 3 miles of land. No possession or targeting Stripers outside the 3 mile limit!
The offshore report continues to be consistent as well. Bluefin, Yellowfin, Wahoo, & loads of Mahi-Mahi. In fact, the Mahi have been caught as close as CIA! Any kind of floating debris, lobster warp, big sea weed patches will most likely have them under it. Great eating fish and an absolute blast on light tackle. The canyons, Atlantis & Veach have been on fire all season. Some really nice Swordfish have been taken along with the Tuna.
All in all the 2023 season has been on fire right from the start. We're expecting a great Fall run this year, especially after the spring run we had and also the sheer number of fish coming through the past 3 years during the Fall. It's right around the corner, so don't miss out on some really fun action. Still got plenty of time left, so don't miss out, because the best is yet to come!!
Be safe, be courteous to your fellow boaters, and most of all Have Fun!!
        ~ Tight Lines, Captain Skip