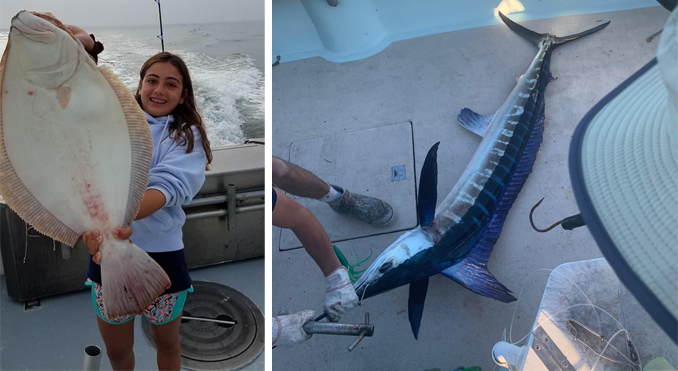 What's up with all the easterly wind this summer? Well, despite the weird weather and wind direction, fishing for the most part has been pretty darn good! Overall, Fluke fishing did improve a lot from last year. Plenty of baitfish and squid were around to keep them interested and accessible.
There were loads of squid down by Hither Hills and Napeague. Even with all the bait at certain locations the Fluke still are always on the move, always on the hunt. This summer most of the good Fluke action was in the deeper water out by Cartwright, outer Cartwright, outer Frisby, Rocky Hill.
Conditions always dictate when they'll bite. Wind direction, Tide phase, Moon phase, Ground swells, etc, etc. It's not that the Fluke are not there, they just have lockjaw, because the presentation is not right. All in all, Fluking was much better than the past few years until ol' Hurricane Ida came along and blew them all away. There's still some time left, you have till September 30th to squeeze a few more tasty flatties into the freezer!!
The other Bottom dwellers that everybody likes have been in full swing ever since the season opened. Black Sea Bass are open till December 31st, with a bag limit of 7 per person at 15 inches. They really have made a huge comeback over the past 10 years. They are just about everywhere, but soon they are going to be moving out to the deeper water. As long as the water temperature stays warm, like it still is, they'll be sticking around the closer spots longer.
The biggest turn around and pleasant surprise this 2021 season has to go to the Tunas! It's been nothing short of a Godsend. Even now at the time of press the Yellowfin Tunas are still biting out by the shipping lanes. It's nice not to have to go 60-80 miles all the time. The boats venturing out to the deep are being rewarded with some really nice Big Eye tuna, as well as Big Wahoo, Nice sized Mahi-Mahi, White Marlin, & Blue Marlin. Trolling Ballyhoo, spreader bars, even Diamond jigging at night have all produced great action. What was really great to see was the return of the Long Fin Tunas. They're perfect for canning in the mason jars. Beautiful white meat Tuna & also fight like crazy with those long pectoral fins!
Still plenty of Sharks around, they've been eating the Striped Bass over by SW Ledge. Your fighting the Striper and all of a sudden the line starts peeling out fast, then you end up winding in half a Striped Bass!! Great excitement, but doesn't put the meat on the table.
Won't be long before the Fall run starts, soon as that water temperature starts to drop, hoards of schoolie Striped Bass will be coming by the point. Make sure all your light tackle is in good working order, so you don't miss out on the fun!
Blackfish opens October 15th. You're allowed 4 fish at 16 inches.
Still have plenty of good fishing time left, so get on out there and get that freezer filled!
~ Tight Lines, Captain Skip
www.adiosboat.com
www.facebook.com/adios.charters