The 2017 Fishing Season if far from over! Thanks to such a mild Fall, fishing this October is a massive improvement from the 3 previous years. The water temperature is an amazing 65.2 degrees at the time of print.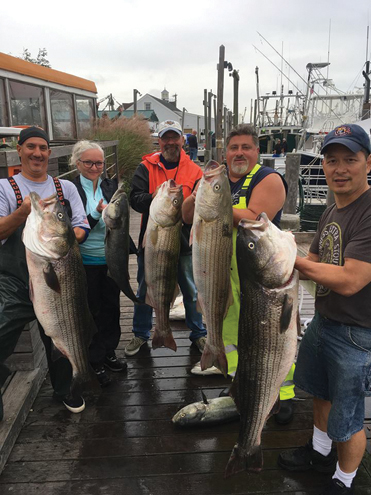 Striped Bass are hanging in there due all of the baitfish staying around because of the warmer water temperature for this time of year. Calm winds, mild temperatures, and great fishing, has made this October actually nicer than July and August Striped Bass are still being caught on all the popular spots. Elbow, Slot, Great Eastern, Porgy Lump, and Pollock Rip. Trolling Parachutes, Umbrella Rigs, even live eels. The sizes are slowly getting smaller, but still great action and much better eating!
Bottom Fishing is benefiting from this amazing Fall weather too. Blackfish are biting well, despite the warm water. Calm weather makes for better presentation when you're anchored up, especially when fishing for Blackfish. These tasty rock dwellers can be very tricky to hook. Usually when you feel the first "bump"you better be ready to swing on the next "bump", or they'll rob you every time!! So find your favourite rock pile and take advantage of this phenomenal October weather. Blackfish limit and size is 4 per man at 16" and is open till December 14th.
Black Sea Bass opened back up in Federal Waters and Rhode Island Waters on October 22nd. The limit and size is 8 per man till October 31st. Then on November 1st it goes to 10 per man till December 31st. Length remains at 15". These delicious eating bottom fish have had about a month off, so they are hungry!! Ha! Ha! All the usual spots are holding fish, because of the warmer water temperature for this time of year. Usually by this time of year they start their migration out to deeper water, but that seems delayed this year due to the conditions, and that's a good thing! This time of year the Green Crabs work very well for both Blackfish and Black Sea Bass. So along with your clams and squid, don't be afraid to bring along some crabs, you might just get a pleasant surprise!!
Don't waste this amazing Fall we're having, still a lot of Good Fishing Time left!!
Tight Lines,
Captain Skip, www.adiosboat.com