Winter 2021
2021 is here, and before you know it we'll all be back on the water! Hopefully this upcoming season will be as exciting as the 2020 season was. Once again now is the time to go over all of your tackle and any repairs that may be needed on your boat. Don't procrastinate, because it will be fishing time before you know it. Keep in mind due to the current situation, tackle, mechanical parts, paint etc,etc. are not as accessible as they once were. You have to allow more time when ordering things these days. Another factor is that who knows what the weather is going to do in the spring. Every day there is a weather window take advantage of it. Maintenance is all important, you can never cut corners!!
A recap of the last month or so of 2020. Banner season for the Togs (Blackfish), they were consistent and in great numbers. When the Black sea Bass moved further out to sea and became hard to get, the Blackfish took up the slack. Don't mean to make light of the Black Sea Bass bite, it was absolutely fantastic. Boats were limiting out in record time, with a full capacity of anglers! Oh, and did I mention that they were huge!!!
The Cod were around as well, but they moved on chasing the bait to wherever they go. With these mild temperatures lately, hard telling if the Cod will show up. If we get a good run of cold weather by around mid January that should get the Herring on the move and hopefully the Cod will be right along with them. We'll just have to wait and see. Regulations for the 2021 Season are not out yet, but we'll keep everyone updated as the information becomes available.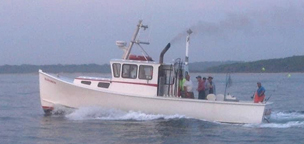 Hope everyone had a great Holiday with family and friends despite these troubled times. Just want to wish everyone a Healthy, Happy, Prosperous, and productive fishing season for 2021!!
On a sad note, we lost a long time professional Captain Bobby Maier Charterboat Elizabeth. Great fisherman, Great Father & Grandfather, Great Friend. Rest in Peace Capt. Bob, you will be missed!!
~ Tight Lines, Captain Skip
www.adiosboat.com          www.facebook.com/adios.charters